Imperial Tobacco Profit Rises Despite Impact of Iraq Conflict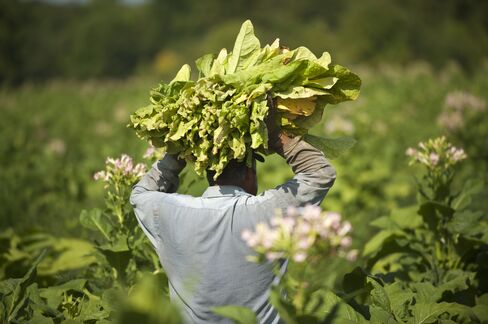 Imperial Tobacco Group Plc, the largest U.K. cigarette maker, reported first-half profit that beat analysts' estimates even as fighting in Iraq weighed on volumes.
Adjusted earnings per share rose 4 percent to 93.3 pence ($1.42) in the six months ended March 31, the Bristol, England-based maker of Davidoff and Gauloises said Wednesday in a statement. That beat the company-compiled consensus estimate of
88.4 pence, according to analysts at Canaccord Genuity.
A "turbulent political and security situation" in Iraq contributed 2 percentage points to a 5 percent drop in volume, Chief Executive Officer Alison Cooper said on a conference call with reporters. Imperial Tobacco gained market share as the decline, excluding Iraq, was less than the rest of the industry. Cooper aims to get a quarter of sales from the U.S. as Imperial plans to buy $7.1 billion worth of assets, including the Blu e-cigarettes brand, as Reynolds American Inc. and Lorillard Inc. merge and sell businesses.
"It's a large upside surprise," said Erik Bloomquist, an analyst at Berenberg. "It shows the company is on track and when you layer the potential of the U.S. deal onto that, it's encouraging."
Imperial Tobacco shares rose 3 percent to 3,213 pence as of 12:14 p.m. in London, heading for their biggest gain in four months and bringing the gain this year to 13 percent. The company's largest brands in Iraq are Gauloises Blondes, Parker & Simpson and Gitanes.
Buying Blu
Cooper plans to expand Imperial's U.S. business by acquiring $7.1 billion worth of assets, including the Blu e-cigarettes brand, as Reynolds American Inc. and Lorillard Inc. merge and sell businesses. Imperial Tobacco doesn't expect U.S. regulators to require any material changes to that deal, which should get approval this spring, she said Wednesday.
Imperial Tobacco will start paying quarterly dividends to shareholders as its dividend yield, at 4 percent, trails those of rivals Philip Morris International Inc. and British American Tobacco Plc, which are 4.8 percent and 4.2 percent respectively, according to data compiled by Bloomberg. Imperial Tobacco raised its interim dividend to 42.8 pence from 38.8 pence.
"The fact that they are growing the dividend 10 percent at a time they have to raise cash for a major acquisition is significant," said Philip Gorham, an analyst at Morningstar Inc. "The implication is that their cash flow is strong enough to do both. I think what gives them confidence to do that was that they cut their debt quite a bit in the first half of the year."
Sales in Imperial's home market are under threat as the U.K. government plans to outlaw branded tobacco packaging beginning May 2016. Still, there are "some pockets in Europe where definitely the consumer appetite to spending is improving." These include Spain, U.K. and Germany, she said.
The weakness of currencies such as the euro and the ruble reduced adjusted earnings per share 3 percent, more than the 2 percent effect Imperial Tobacco had forecast. Imperial Tobacco reiterated a forecast of reaching 85 million pounds of savings this fiscal year from a cost-cutting program.
Before it's here, it's on the Bloomberg Terminal.
LEARN MORE