IMF Warns on EU Insurers' Business Models as JPMorgan Cuts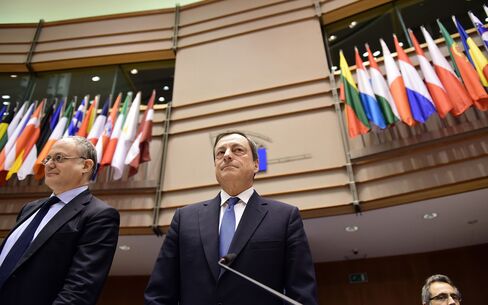 European life insurers' business models are becoming unsustainable after interest rates slumped across the continent, International Monetary Fund analysts said.
Low yields on government bonds mean euro-area firms are incurring more financial stress than in recent tests by regulatory authorities, when almost a quarter were unable to meet requirements, analysts including Reinout De Bock and Andrea Maechler said in a report dated Tuesday.
European Central Bank chief Mario Draghi's bond-buying program is hurting insurers, which rely on income from bonds to pay pensioners guaranteed returns. JPMorgan Chase & Co. cut the rating of Allianz SE, the continent's biggest insurer, on Wednesday, joining BlackRock Inc.'s Laurence D. Fink, Morgan Stanley and Barclays Plc in warning about the industry's profitability.
It is unclear how many insurers no longer meet regulators' requirements and how quickly that number will increase, according to the IMF analysts.
The Bloomberg Europe 500 Insurance Index has risen 10 percent this year, lagging behind gains of 13 percent for the benchmark Stoxx Europe 600.
Capital Issue
Capital requirements under the Solvency II regime, designed to help global insurers withstand financial shock, may not be realistic under industry-wide stress, the analysts said.
Meanwhile, JPMorgan said in a report that lower interest rates and the incoming Solvency II rules are forcing European Union insurers to inject more capital into units offering guaranteed returns. Fink, who runs the world's largest asset manager, said on April 21 that persistently low rates are destroying the value of pension funds.
Companies in Germany and Sweden are particularly challenged as they offer long-term policies without holding assets of a corresponding duration, the IMF analysts said.
Allianz has a proven track record of handling declining rates, Chief Financial Officer Dieter Wemmer told shareholders in Munich on Wednesday.
Before it's here, it's on the Bloomberg Terminal.
LEARN MORE