EU Exit Concern Seen Keeping a Cameron Market Boon Short-Lived
Former Bank of England policy maker John Gieve said concern about Britain's future in the European Union means any positive investor reaction to a Conservative government after Thursday's election may be short-lived.
Prime Minister David Cameron has said he'll hold a vote on Britain's staying part of the political bloc if re-elected. With polls showing the Conservatives neck-and-neck with the opposition Labour Party, which opposes a vote on EU membership, the possibility of "Brexit" is a second layer of uncertainty over the U.K.'s future.
Markets "might get an initial slight boost if you get a return of a Conservative government," Gieve said in an interview at Fathom Consulting's Monetary Policy Forum in London on Wednesday. "It's better the devil you know -- but I do think within months we will be talking about the referendum and the possibility of Brexit. That will have an impact on investment for the period before the referendum,no matter what the result."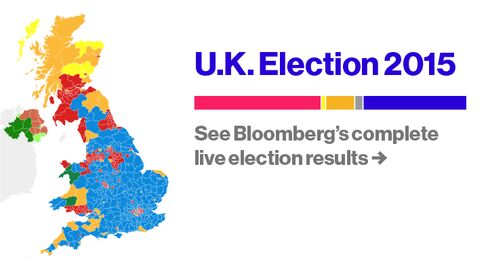 Opinion polls show neither the Tories nor Labour likely to gain enough support to govern without the help of smaller parties. The unpredictability of the result has, in the past four weeks alone, sent the pound tumbling to a five-year low against the dollar and spurred its best monthly rally since 2013.
DeAnne Julius, another former BOE policy maker, said markets will be "nervous until the coalition, whatever it is, is formed and announced."
"It seems to me that a Labour-led coalition is less market-friendly, less business-friendly than a Conservative-led one, and I think that will be the market's perception," she said in a separate interview at the Fathom event.
To avoid unnecessary uncertainty that could hamper consumer confidence and business investment, Julius said the new chancellor of the exchequer should aim to not shock investors with surprises on taxes and the welfare budget.
"I think the real focus of the new chancellor should be on stability and on consensus-building amongst whoever its coalition partners are," she said in response to questions from the audience at the event.
Before it's here, it's on the Bloomberg Terminal.
LEARN MORE