Comcast, HBO, Showtime Sued Over Bad Shoulder in Big Fight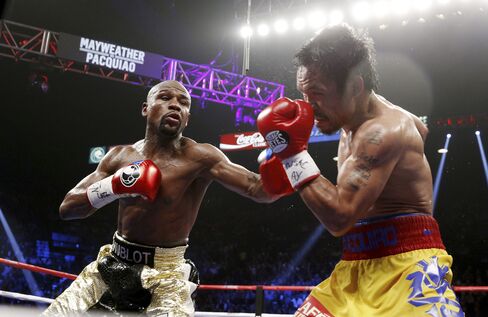 Comcast Corp. and Home Box Office Inc. were sued by pay-per-view customers who claim they were ripped off by a failure to disclose boxer Manny Pacquiao had a shoulder injury going into his May 2 fight with Floyd Mayweather Jr.
Only after Mayweather won the 12-round bout was it revealed that Pacquiao had sustained a torn rotator cuff while training.
Four Illinois residents say they and others who paid $89 to $100 to watch the battle were duped by the hidden injury that the broadcasters, which also included Showtime Networks Inc. and DirecTV Inc., "knew or should have known" about, according to a complaint filed Tuesday in Chicago federal court.
They're trying to force the companies that televised the fight, the boxers and their management companies to forfeit the estimated $300 million they made from the event.
A class-action defense lawyer not involved in the case said it may face an early knock-out attempt.
"If I were representing any of the defendants, I would relish making a motion to dismiss," said Andra Greene of Irell & Manella LLP in Newport Beach, California. "There's no specificity as to who knew what when."
Daniel Petrocelli, an attorney for Pacquiao and his promoter, Top Rank Inc., said the complaint has no merit.
'Prompt Dismissal'
"We will seek its prompt dismissal," he said in an e-mail. Pacquiao, 36, and Top Rank were also sued Tuesday by two Nevada residents in Las Vegas, where the fight was staged.
Top Rank, in a statement posted on its website two days after the match said, "This is boxing. Injuries happen and Manny is a warrior."
The fight promotion firm said Pacquiao sustained his injury during training and that his doctors and advisers concluded that with short rest, treatments and close monitoring, the boxer could continue to train and fight Mayweather as scheduled.
"His shoulder wasn't perfect but it had improved in training camp," according to Top Rank. "However, as Manny has said multiple times, he makes no excuses. Manny gave it his best."
Greene said the three men and one woman who brought the lawsuit, all from Illinois, are ill-suited to pursue a case their lawyers say relies on consumer protection laws from all 50 states.
"That's not going to fly," said Greene, whose firm has done work for HBO, Showtime and DirecTV.
Harvard Professor
Harvard University law professor William Rubenstein echoed the California litigator.
"If the claims are based on state law and the law is different in every state, than it would be hard to have a nationwide class action," he said.
Johanna Fuentes, a spokeswoman for Showtime, a unit of CBS Corp., and HBO spokesman Ray Stallone declined to comment on the lawsuit.
Kelly Swanson, a spokeswoman for Mayweather, 38, of Grand Rapids, Michigan, didn't immediately respond to e-mail and voice-mail requests for comment.
Comcast spokesman John Demming and DirecTV spokesman Robert Mercer didn't immediately respond to voice-mail and e-mail messages seeking comment.
The case is Gomez v. Top Rank Inc., 15-cv-3982, U.S. District Court, Northern District of Illinois (Chicago).
Before it's here, it's on the Bloomberg Terminal.
LEARN MORE