Alberta Tories Ousted in Historic New Democratic Party Win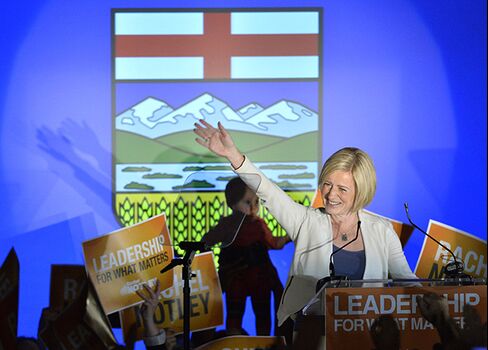 Alberta voters ended the 44-year Progressive Conservative dynasty, electing the pro-labor New Democratic Party that has pledged to raise taxes for Canada's main oil industry.
The NDP, led by Rachel Notley, won 53 of the province's 87 districts and tied in another riding where a recount was expected, according to results from Elections Alberta. It was the party's first win in the province and a dramatic change from the four seats they currently hold. Ousted Premier Jim Prentice resigned from politics after the results came out.
Notley, a 51-year-old lawyer, tapped into voter dissatisfaction with Prentice and his Tory party that has ruled Alberta since 1971. His proposal to raise taxes for workers while sparing the province's energy industry was among reasons that sparked the voter backlash.
"Change has finally come to Alberta," Notley said in a speech to supporters in Edmonton. "In this province we're optimistic, we're forward-looking, we're entrepreneurial, we're community-minded and we are careful with the family budget."
Support for the Tories began to wane last year after former Premier Alison Redford was forced to resign following an expense scandal. Prentice angered voters further by raising taxes and fees for consumers in his March budget, while leaving corporate taxes untouched. As a result of the voter frustration, Notley's party was favored to win, according to most polls.
"The biggest signal is not that it's an NDP majority, but that it's a majority by another party," said Duane Bratt, chair of the department of policy studies at Calgary's Mount Royal University. "They had to get a lot of anti-PC votes."
Industry Challenges
The projected NDP win adds to challenges facing the Alberta oil patch, already beset by high costs, falling prices and stalled pipeline projects. The NDP campaigned on raising the corporate tax rate to 12 percent from 10 percent, and on carrying out an oil-royalty review -- in essence, considering raising the cut the government takes on oil production.
The NDP win may lead to a sell off in the oil sands producers, said AltaCorp Capital Inc. analyst Jeremy McCrea. The oil sands operators include Suncor Energy Inc. and Canadian Natural Resources Ltd.
"Economics are constrained as it is," said Amir Arif, an analyst at Cormark Securities Inc. in Calgary. "If royalties go up, it will make more drilling uneconomic."
The party also pledged to increase income taxes on the top 10 percent of earners -- those making more than C$125,000 ($103,000) a year -- raise the minimum wage to C$15 an hour and funnel any new energy-royalty revenue to a savings fund.
The New Democrats also plan to ban corporate and union donations, the lifeblood of the PCs. The majority of about C$825,300 raised by Prentice's party in the first quarter this year came from corporate donors.
Expense Scandal
Prentice, 58, took over leadership of the PCs in September after Redford stepped down following a scandal over her use of government aircraft, travel expenses and the construction of a luxury apartment for the premier's use while in Edmonton, the provincial capital. The party won in only 11 districts compared with the 70-seat majority before the election.
"I accept responsibility for tonight's outcome," Prentice said in a speech to supporters. "My contribution to public life is now at an end."
Voters were also disappointed with the government running deficits and making cuts to education funding even after promising not to do so during the 2012 election.
Voters are "more angry now, because of all the fiascoes with the PCs" said Robert Soloview, 47, who works at an Edmonton university. Soloview, who has spina bifida and uses a cane, said the PC scandals left him wondering why money was being wasted and not spent on funding for people with disabilities. "I just hope it's a better change, topca better outlook for the province."
Voter Turnout
Turnout was little changed from the 2012 election at about 55 percent, according to CTV Television. Wildrose took 21 seats, the Progressive Conservatives won 10 while the Liberals and the Alberta Party each claimed one seat, according to elections Alberta. There will be a judicial recount for one riding.
"There was a big turnout and there was an awful lot of young voters," said Jim Lightbody, chair of the University of Alberta's political science department based in Edmonton. "This election is a generational election."
Prentice, a former vice chairman at Canadian Imperial Bank of Commerce, triggered frustration among voters in March by proposing cuts to health spending and higher taxes for households to weather the collapse of oil prices, while sparing the producers. He estimated the decline in oil royalties will create a C$7 billion shortfall in provincial revenues this fiscal year.
Floor Crossers
He becomes the only premier in Alberta's history to serve less than a year in office, aside from Dave Hancock, who served 176 days last year as interim leader after Redford's resignation. Prentice called the election a year early after accepting floor crossers from his nearest rival, Wildrose, including its former leader, Danielle Smith.
Notley's win leaves the country with three women among 13 provincial and territorial premiers, and with two NDP governments -- one in Alberta, another in Manitoba. The NDP are the party with the second highest number of seats federally.
Alberta has favored dynasties. The Liberals ruled from 1905, when the province was created, until 1921 when they were replaced by the United Farmers, who then governed for 14 years. The Social Credit party held power from 1935 to 1971, when the PCs won their first majority, the last one coming in 2012.
Before it's here, it's on the Bloomberg Terminal.
LEARN MORE