'Notley Crue' Completes Four-Decade Rise to Alberta Power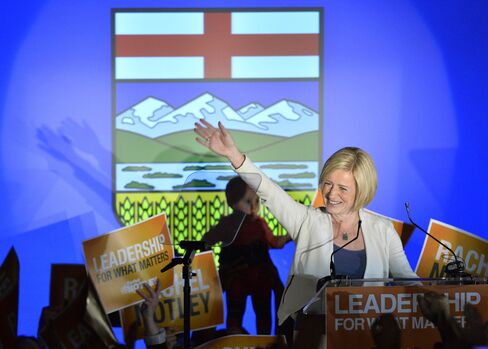 With her stunning victory in the Alberta election Tuesday, New Democratic Party Leader Rachel Notley completed the job her father started almost 44 years ago.
For over a decade, Grant Notley was the Canadian province's left-wing opposition of one -- the only New Democrat in a legislature filled with Progressive Conservatives. His bid for power was cut short when he died in a plane crash in 1984.
Rachel Notley turned the tide on the Conservatives with the electoral victory, ending the Tory dynasty that began in 1971, the year her father was first elected.
"I know that my mother would be completely over the moon about this," Notley, 51, told a crowd of cheering supporters in Edmonton, Alberta late Tuesday. "I think my dad would be too. I'm sorry he couldn't see this. This really was his life's work."
Notley, a lawyer who only became leader of the party in October, rode a wave of unrest, winning a mandate to move Canada's youngest, wealthiest and fastest-growing province to the left. She campaigned on raising taxes on high-income earners and corporations, reviewing the royalty rates in the oil patch, hiking the minimum wage and on phasing out Alberta's coal power at a time when environmental criticism is stunting energy sector development.
"I think we made a little bit of history tonight," Notley told an election rally after her victory.
How quickly those changes will proceed is unclear. In a brief press conference after her win, she told reporters her first priority was to meet with her new caucus, and dodged questions about when she would begin a review of energy royalties.
Rookie Lawmakers
Friends of Notley say much of the NDP's strength is directly due to her performance as leader, bringing the party from just four seats to a projected 54 in the 87-seat legislature. That means she will have about 50 rookie lawmakers in her caucus, almost half of them women.
"I think this campaign just kept building because she has such charisma. She has even surpassed her wonderful father," says Linda Duncan, an environmental lawyer who is another lone wolf, the only federal NDP member of parliament from Alberta.
The NDP swept Edmonton on Tuesday, and Notley won her own riding there by taking 82 percent of the vote.
"Rachel's always there, reaching out to draw people in," Duncan said. While campaigning in Edmonton, "door after door, people would say, my entire life I've voted Conservative, I'm fed up, I'm voting NDP. Door after door."
Notley was first elected in 2008 and became NDP leader last year. "Ready for Rachel" buttons and "Notley Crue" t-shirts mimicking the rock band dotted the crowd at her Edmonton rally. Her supporters say her win was based on more than just a desire to push out Premier Jim Prentice's party.
Prentice Fatigue
"I don't know if it was anti-PC voting. What we were hearing at the doors was people were tired. Tired of Prentice, tired of him trying to game the election," Brian Stokes, director of the Alberta NDP, said as results rolled in. He was referring to Prentice's welcoming of defectors from what had been his chief rival, the Wildrose party, before calling an early election. Prentice resigned from politics after the results were announced.
"He asked folks what they wanted before he brought out a budget, he just didn't listen to them at all. And that was the last straw," Stokes said. Instead, they latched onto Notley. "You could see it in the debate, you could see it in the events, she's comfortable, confident. She loves doing this."
Notley's victory party was attended by union leaders and environmentalists who have often sparred with the PC government. Guy Smith, president of the Alberta Union of Provincial Employees, lauded Notley but shrugged off questions about what impact the election will have on investment.
More Equitable
"I think oil companies and others that invest in Alberta understand it's a good place to invest, it just needs to be more equitable," Smith said. "I think she's very pragmatic. She's a very good listener. I don't think anyone should be afraid of her being our premier."
What impact her win will have on the federal election in October is unclear. She won despite a notable absence of the federal NDP leader, Thomas Mulcair, who has stirred controversy in Alberta with comments about "Dutch disease" and the country's reliance on oil revenue. Duncan defended that. "It is not the job of a federal leader to stick his nose into a provincial campaign," she said.
Notley's campaign largely swept city voters, and elected a caucus roughly split by gender. Her party had never formed government, and hadn't even been the second-biggest party since the 1980s after her father's death.
Grooming Her
"She really is the right person at the right time. If she had already run, it wouldn't have the same sort of mystique, but they've been grooming her for this job almost since she was born," says Duane Bratt, a professor and chair of the department of policy studies at Calgary's Mount Royal University.
For Ray Martin, an NDP lawmaker who worked with Grant Notley, Rachel is channeling her father in some ways, and forging her own path in others. "Rachel's her own person" but "certainly, the Notley name didn't hurt her," says Martin, now a school board trustee in Edmonton.
Before it's here, it's on the Bloomberg Terminal.
LEARN MORE