Will Baltimore Use Social Media to Prosecute Rioters?
Baltimore's mayor promised to use social media to prosecute rioters. It may not be so easy.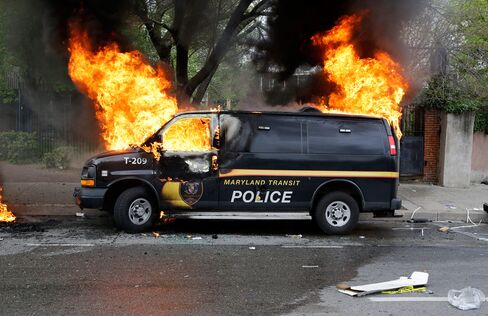 Last Monday night, while Baltimore residents set fires and looted stores to protest the death of 25-year-old Freddie Gray, Mayor Stephanie Rawlings-Blake announced that police would use social media video and images to prosecute rioters. "We will be holding people accountable," she said.
More than 200 arrests related to the rioting have been made since then, and about half of those arrested have been released without charge. Several videos of the violence and looting made their way to social media, but there's no indication that posts have directly resulted in charges. Whether or not Baltimore authorities decide to actively pursue offenders depicted on social media could come down to how much pressure the community puts forth for arrests. Or how much help the police get from members of the public to identify offenders.
When rioters took to the streets in Vancouver after the 2011 Stanley Cup Finals—resulting in fires, stabbings, and 139 hospitalizations—authorities used more than 5,000 hours of social media video footage to file charges against as many as 300 people. There was, according to a 2011 Department of Justice report, "high public interest in seeking out the identity of the rioters," and local police received more than 3,500 tips to help identify offenders.
"I don't think that there is a strong popular push in Baltimore for further rioting arrests," says David Jaros, an assistant law professor at the University of Baltimore. "I have a very strong suspicion that the mayor's comments about using social media to arrest more rioters is something that is going to quickly fall by the wayside as not necessarily the most effective use of resources."
Baltimore police wouldn't need to rely solely on tips from the community and have previously used facial recognition software to identify suspects by comparing online images to more than 2.1 million pictures on law enforcement databases.
Services such as NetClean are also developing ways to help police track down offenders by helping identify connections between crimes and media posted on social networks. NetClean product manager Johann Hofmann says metadata from images and video can show the exact GPS coordinates of where an image was taken, the serial number of the camera being used, and the exact time the shot was taken. The service also uses a Microsoft facial recognition tool called PhotoDNA, which can help match faces in social media postings to images in a large database. The service, according to Hofmann, is already being used in Baltimore and other jurisdictions around the world in child abuse investigations involving online images.
Social media posts have been used often as probable cause for arrests in several jurisdictions, but using them in court as evidence in a prosecution is trickier, says Hanni Fakhoury, a senior staff attorney with the Electronic Frontier Foundation.
Images and video on social networks are shared over and over again, and prosecutors need to prove that an image is exactly what it's purported to be. "If they say, 'This is a picture taken of a guy throwing a Molotov cocktail,' they have to show that this is, in fact, an accurate picture of a guy throwing a Molotov cocktail—and not something that's been doctored," Fakhoury said. "You don't always know where these images come from, or who changed them as they were passed around online. It's a challenge." Authenticating something from a CCTV camera, for example, is simpler: The camera's owner can testify in court and verify that an image is an accurate depiction of what happened.
In short, it's a lot of work. And Mayor Rawlings-Blake's desire to prosecute rioters may be overtaken by more pressing matters of rebuilding a troubled city, according to Christian Davenport, a political science professor at the University of Michigan.
"Applying a little repression to the most excessive, overt violence and pulling back when it is somewhat unclear who the target is is probably the smartest play," says Davenport. "Now, what she does next is a different issue. Does she address Baltimore's deeper problems of poverty, over-policing, unemployment, reduced tax base, poor education, poor social services, and poor health? A single instance of police brutality and some urban disturbances are symptoms of larger problems."
Before it's here, it's on the Bloomberg Terminal.
LEARN MORE