What U.K. Parties Are Pledging on Taxes, Spending, Budgets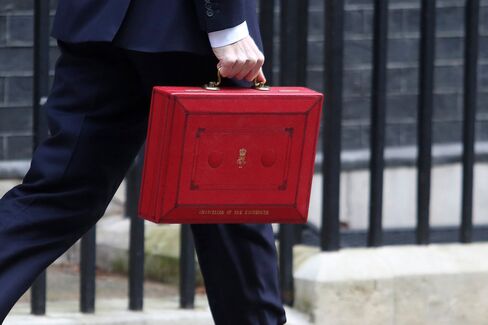 By Donal Griffin and Eddie Buckle
(Bloomberg) Some of the key election-campaign promises made by the four parties set to have most seats in the House of Commons after Thursday's election.
Taxes on Income and Spending Conservatives
No increases in income tax, value-added tax or national-insurance contributions for five years, to be enshrined in law; raise starting point for paying income tax to 12,500 pounds; increase starting point for 40 percent income-tax rate to 50,000 pounds.
Reintroduction of 50 percent tax rate on incomes of more than 150,000 pounds; abolition of non-domicile loophole used by wealthy to cut tax bills; introduction of 10 percent starting rate of income tax; no increase in basic or higher rates of income tax, VAT or national insurance.
Increase income-tax starting point to 12,500 pounds.
Backs 50 percent top tax rate, abolition of non-dom status.
Business Taxes and Regulation Conservatives
Keep business taxes the lowest in the G-20.
Labour
Reverse cut in main rate of corporation tax on profits to 20 percent from 21 percent; freeze energy prices until 2017; cap profits of suppliers to National Health Service; impose levy on tobacco companies; keep corporate-tax rates the most competitive in the G-7.
Property Taxes/Housebuilding Conservatives
Extend right-to-buy rented homes to housing-association tenants; build 200,000 starter homes for first-time buyers under 40.
Labour
Introduce tax on residential properties valued at more than 2 million pounds; three-year stamp-duty holiday for first-time buyers of homes costing less than 300,000 pounds; build 200,000 homes a year.
Liberal Democrats
Also plan mansion tax on properties over 2 million pounds, via extension of property-based levies; build 300,000 homes a year, including in 10 new garden cities.
SNP
Backs mansion tax.
Financial Services Conservatives
Keep levy on bank balance sheets in place; complete ring-fencing of retail-banking units; ensure "toughest regime of bonus deferral and clawback of any financial center."
Labour
Increase bank levy; introduce bank bonus tax; end "unfair tax breaks used by hedge funds."
Liberal Democrats
Continue bank levy; raise corporation tax for banks to 28 percent temporarily.
SNP
Supports bank levy and bonus tax.
Spending Conservatives
Extra 8 billion pounds by 2020 above inflation to fund National Health Service; 100 billion pounds on infrastructure over five years.
Labour
Boost health spending by hiring more than 30,000 new nurses, family doctors and midwives, funded by mansion tax; protect education budget.
Liberal Democrats
Invest extra 8 billion pounds in NHS each year; raise pay for public-sector workers; protect education spending.
SNP
Halt progress on renewing Trident nuclear weapons, saving 100 billion pounds over 35 years; "modest" increases in public spending to end austerity.
Deficit Reduction Conservatives
Deliver balanced structural current budget in 2017-18 and surplus in 2018-19; 30 billion pounds of fiscal consolidation over next two years, including 12 billion pounds on welfare; spending to grow in line with inflation in 2018-19, in line with gross domestic product in 2019-20.
Labour
Cut budget deficit every year to achieve surplus on current budget, which excludes investment spending, as soon as possible in five-year term.
Liberal Democrats
Eradicate structural current budget deficit by 2017-18; carry out full spending review after election; increase public spending in line with economic growth once budget balanced; cut less than Tories, borrow less than Labour.
SNP
Reduce deficit as share of income every year; seek to enshrine in law key principles of financial management including deficit elimination.
Before it's here, it's on the Bloomberg Terminal.
LEARN MORE