UBS Is Having Its Best Day in Years
UBS Group AG rose to the highest price in Zurich trading since the Swiss government came to its rescue in October 2008 after profit almost doubled in the first quarter.
Switzerland's biggest bank posted net income of 1.98 billion Swiss francs ($2.1 billion), above the 1.22 billion-franc average estimate of seven analysts in a survey compiled by Bloomberg, as all of the bank's key divisions beat forecasts.
"UBS blew away expectations," Dirk Becker, a Frankfurt-based bank analyst at Kepler Cheuvreux said in a note Tuesday. "This was a comprehensive earnings beat by anyone's standards."
Chief Executive Officer Sergio Ermotti, who reorganized the bank to shrink the securities unit and focus on wealth management, is improving returns by cutting costs while litigation expenses persist. The bank attracted 14.4 billion francs in new funds at the main money management unit, topping estimates after a weak fourth quarter.
UBS's return on tangible equity -- a measure of profitability -- amounted to about 14 percent in the quarter, above its target of 10 percent for the year. The bank aims for a return of more than 15 percent from next year.
Ermotti 'Vindicated'
"The bank had a good quarter all around," said Alevizos Alevizakos, an analyst at Keefe Bruyette & Woods Inc. in London. "Revenues were strong and UBS exercised good cost control."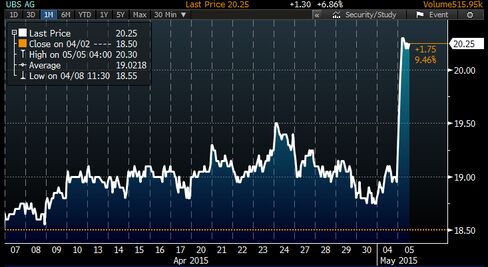 UBS rose as much as 7.2 percent, the biggest gain in two years, and traded 4.8 percent higher at 19.92 francs as of 5:10 p.m. in Zurich, valuing the bank at about 76.6 billion francs. The stock rose to the highest since Oct. 17, 2008, a day after the Swiss government announced a capital injection and other measures to shore up the bank against losses from the U.S. subprime crisis.
"On the numbers they produced, Ermotti must certainly feel vindicated" in his strategy as UBS moves closer to the long-term 15 percent return on equity target, said Chris Wheeler, a London-based analyst at Atlantic Equities LLP.
UBS, which holds its annual shareholder meeting on Thursday, may still face questions about its plan from activist investor Knight Vinke Asset Management LLC. The shareholder will probably question whether the firm should spin off the investment bank, SonntagsZeitung reported May 3. UBS could also combine its securities unit with that of Credit Suisse Group AG or another bank, Eric Knight told the newspaper.
Investment Bank
"Ermotti and his team have done an excellent job" on transforming UBS, said Kian Abouhossein, a London-based analyst at JPMorgan Chase & Co. "A merger between Credit Suisse and UBS investment banks at this point does not make sense to me for UBS shareholders."
Pretax profit at the investment bank rose 82 percent to 774 million francs, helped by an increase in trading amid higher market volatility and strong client activity. The unit's return on equity amounted to 42 percent in the quarter.
Revenue in equities rose 15 percent to 1.16 billion francs, while fixed-income trading was up 71 percent to 701 million francs. The unit that advises companies on deals and underwrites securities offerings saw a 4 percent increase in sales to 801 million francs.
"We stayed disciplined on risk and we delivered across all businesses and regions," Ermotti said in the statement. "The results again demonstrate the benefits of a strategy defined early."
FX Probe
UBS said in its quarterly report Tuesday that discussions with the U.S. Justice Department about a settlement for attempting to rig currency markets are at an "advanced stage." No agreement on the form of the resolution has been reached, the bank said.
UBS is among a group of banks that may have to pay about $1 billion to settle with the Justice Department for attempting to rig currency markets, people familiar with the talks said in March. The bank in November was ordered to pay about $800 million by regulators in the U.S., Britain and Switzerland in related separate probes.
Other investigating authorities may seek to conclude similar resolutions in the near future, UBS said. It said its provisions are "adequate" to meet the anticipated cost of resolutions.
The bank took a provision of 1.84 billion francs in the third quarter last year. It added 176 million francs in litigation provisions in the fourth quarter and a further 134 million francs when the bank published its annual report in March, after settling a U.S. lawsuit related to currency rigging.
The bank booked provisions of 58 million francs in the quarter reported Tuesday.
Wealth Management
The Justice Department is also weighing whether evidence of wrongdoing in currency trading means banks violated earlier deals resolving probes into the rigging of benchmark interest rates, two people familiar with the matter said in March.
Wealth management pretax profit rose 54 percent to 951 million francs, beating the 699 million francs estimated by analysts.
Wealth management Americas saw earnings rise 4.5 percent to 253 million francs. The unit added $4.8 billion in net new money. Global asset management posted pretax profit of 168 million, above analysts' estimate of 139 million.
Changing Pricing
UBS is changing the pricing on some wealth management accounts in light of the interest rate environment in Switzerland and parts of Europe, the bank said. While this may cause outflows at the division, UBS expects net new money to remain positive in the second quarter, the bank said.
Switzerland introduced negative interest rates this year. The initiative will affect about 1,000 client relationships UBS is reviewing with a total of 30 billion francs in assets at the bank, Ermotti said on a conference call with analysts and journalists.
UBS increased its capital ratio under fully applied Basel rules to 13.7 percent. That compares with 10 percent at Credit Suisse.
"The already good capital position improved further, increasing the gap to its main competitor, Credit Suisse," Andreas Venditti, an analyst at Vontobel Holding AG in Zurich said in a note.
Before it's here, it's on the Bloomberg Terminal.
LEARN MORE