U.S. Oil Jumps Above $60 for First Time This Year as Glut Eases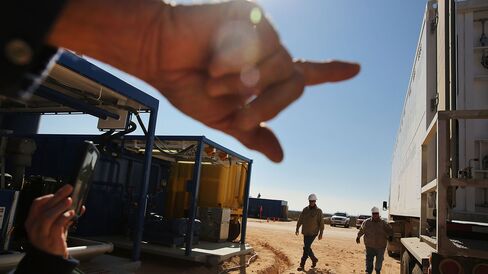 Oil surged above $60 a barrel in New York for the first time since December on speculation the biggest U.S. supply glut in 85 years will ease.
U.S. inventory growth has slowed and supplies at Cushing, Oklahoma, the main U.S. oil-storage hub, have already declined. EOG Resources Inc., the largest shale-oil producer, said it lost money in the first quarter after taking steps to halt output growth following the price slump.
Crude has rebounded from a six-year low in March as U.S. drillers cut the number of operational oil rigs to the fewest since 2010. The rally may yet falter if higher prices encourage producers to resume pumping too quickly.
"We've broken a psychologically important level," said Gene McGillian, a senior analyst at Tradition Energy in Stamford, Connecticut, adding that it's probably time to sell oil as the market has risen too much. "It's related to the idea that North American production will decline and the supply glut will ease."
West Texas Intermediate for June delivery climbed $1.47, or 2.5 percent, to $60.40 a barrel on the New York Mercantile Exchange, the highest settlement since Dec. 10. The volume of all futures traded was close to the 100-day average for the time of day. Prices jumped 25 percent in April, the biggest monthly advance since May 2009.
U.S. Stockpiles
Brent for June settlement added $1.07 to $67.52 a barrel on the London-based ICE Futures Europe exchange, the highest close since Dec. 5. The contract rose 21 percent in April, also the most since May 2009. The European benchmark crude was at a premium of $7.12 to WTI.
WTI extended gains after the American Petroleum Institute was said to report a drop in inventories, according to ForexLive. Total inventories fell 1.5 million barrels last week, with Cushing stockpiles slipping by 336,000, the API was said to report.
U.S. crude inventories increased by 1.35 million barrels through May 1, according to a Bloomberg survey before a report from the Energy Information Administration on Wednesday. Stockpile gains averaged 4.87 million barrels a day in the four weeks ended April 24, the lowest level since January.
Supplies reached 490.9 million barrels in the week ended April 24. That's the highest level since 1930, based on monthly records dating back to 1920.
"The market's probably getting a bit ahead of itself," said Michael Lynch, president of Strategic Energy & Economic Research in Winchester, Massachusetts. "Inventories are so high, so it's going to take a long time to get back to normal."
Cushing Supplies
Inventories at Cushing, the delivery point for WTI contracts, slid by 514,000 barrels to 61.7 million in the week ended April 24, the EIA said. Crude inventories at the hub probably fell 200,000 barrels in the week ended May 1, according to a Bloomberg storage model.
EOG was among the fastest to respond to a crash in oil prices, as Chairman and Chief Executive Officer William Thomas in February announced plans to keep production flat this year and slash spending 40 percent.
The number of oil drilling rigs fell to 679 last week, the lowest level since 2010, according to Baker Hughes Inc. U.S. monthly oil production will decline from June through September before rebounding in the fourth quarter, according to EIA forecasts.
"U.S. markets are getting excited about any hints of lower production or stock draws in Cushing," Olivier Jakob, managing director at Petromatrix GmbH, said by e-mail from Zug, Switzerland.
Saudi Prices
Saudi Arabia kept the discount at which it will sell Arab light crude to Asia in June at 60 cents to regional benchmarks, unchanged from May, state-owned Saudi Arabian Oil Co. said Tuesday. Aramco cut prices to a record low of $2.30 a barrel in March in a bid to retain market share in the region and has since narrowed the price differential.
"By keeping it unchanged, the Saudis are showing confidence that Asia is going to continue to buy oil," said Phil Flynn, senior market analyst at the Price Futures Group in Chicago. "It's a bullish sign for the market."
Saudi Oil Minister Ali al-Naimi said in an interview on CNBC that he isn't "worried at all" about the return of Iranian crude to the market if sanctions on the country are lifted as part of a deal on its nuclear program.
Before it's here, it's on the Bloomberg Terminal.
LEARN MORE