U.K. Forged the Modern World. Why the Election Identity Crisis?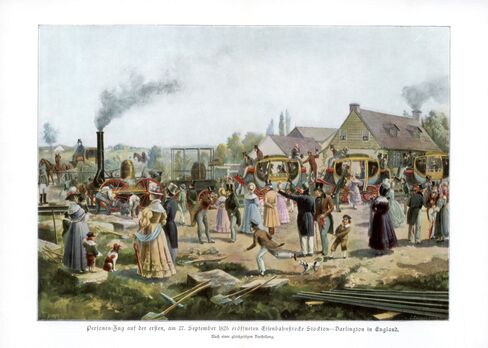 It was in 1825 when Darlington in northeast England etched its name in history. Today, the town long associated with the age of steam is a symbol of lost identity that's set to play out in this week's general election.
Darlington's North Road station is a shrine to what Britain once was: Inside stands "Locomotion No. 1," the engine that drove the world's first steam-powered public passenger railroad. With its top speed of 15 miles per hour, the train married technological progress with public and commercial appeal, and anchored Darlington as the birthplace of passenger railways that were ultimately rolled out worldwide.
The link with railways endured for a century and a half until the 1960s. Now, almost 200 years after locals were first frightened by the horseless engines, the concern is over what the future holds for a town whose heyday lies behind it.
"Whenever you come back, nothing seems to have changed, it hasn't evolved," Richard Peacock, 31, an emergency-ward doctor who went to school in Darlington, said during a recent trip back home to visit his parents. "You'd think after 30 or 40 years they'd find a new identity, but there's nothing."
Darlington's quest for contemporary relevance is shared by towns across the country that helped forge the U.K.'s identity at the forefront of the industrial revolution. Having afforded Britain the means to build an empire that made it Great, these centers of innovation are now a study in how the same forces of globalization can leave people behind in its wake.
Faded Greatness
While reflections on faded greatness are nothing new in post-imperial Britain, the May 7 election looks set to expose just how fragmented and inward-looking the country has become. Foreign policy or Britain's place in the world have barely featured during the campaign, and failed to get a mention in the only televised leaders' debate last month.
Old voting certainties have been swept away with the erosion of support for both Prime Minister David Cameron's Conservatives and Ed Miliband's Labour opposition, prompting pollsters to predict a hung parliament with no one party holding a majority.
The campaign's real winners may instead be the U.K. Independence Party, forecast to place third by votes on a platform of slashing immigration and quitting the European Union; and the Scottish National Party, which strives to end the 308-year-old union with England and Wales and looks like gaining the third-largest number of parliamentary seats.
Vision Lacking
That preoccupation with constitutional matters threatens to raise risks for investors, companies and trading partners not seen since the 1970s, when the current crop of political leaders were learning about industry and empire in school.
"There's no vision to hold us together anymore and it's almost a truism to say that Britain is in an existential crisis," said Matt Qvortrup, a professor of politics at Cranfield University. "It's mid-life crisis Britain. We're not quite sure who we are or what we are."
While business leaders have expressed concern at Cameron's campaign pledge to hold a ballot on EU membership by the end of 2017, there's little evidence the public shares those worries. Instead, concerns over immigration placed second on a list of 13 policy areas occupying voters in a YouGov poll April 27-28, sandwiched between the economy and health. Europe came sixth.
You don't have to go far in Britain to find evidence of an age when the country was bristling with the self-confidence of a country leading its peers.
Industry's Birthplace
After merging its constituent nations in 1707, the newly formed United Kingdom set off on a journey of industrialization and trade that reached its zenith under Queen Victoria at the turn of the 20th century, when her empire spanned almost a quarter of the world's surface and a fifth of its population.
Another staging post to Britain's former international status lies at Ironbridge, a town in central England that lays claim to be the "birthplace of industry."
It was there, on New Year's Day 1781, that the world's first metal structure was unveiled in a show of the kind of modernity that set Britain apart.
"It's a statement of intent, and it's that intent that's then carried throughout the country, throughout the world," Matthew Thompson, senior curator at the Ironbridge Gorge Museum Trust, said in an interview. "'Look at us: we're modern; look at our powers; look what we're capable of.'"
First Britons traveled to see it, then foreigners from Prussia, Sweden and Canada. Thomas Jefferson, the U.S. envoy to France at the time, bought prints of the bridge during a trip to London in the 1780s.
Head of Steam
The West Midlands region that includes Ironbridge and the northeast where Darlington is located have struggled to sustain the momentum ever since. Economic inactivity and the number of people with no qualifications are higher in those regions than the U.K. average, while gross weekly pay is lower, according to the Office for National Statistics.
The Head of Steam museum in Darlington helps chart the passage of time: The exhibition starts with George and Robert Stephenson's steam locomotive that hauled its first train on the Stockton to Darlington railway. It ends in 1966 with the shutting of the town's locomotive works.
"If it wasn't for the railways and Britain's engineering and manufacturing history, the world would be a different place," said Leona White-Hannant, the museum's curator.
Before it's here, it's on the Bloomberg Terminal.
LEARN MORE