U.K. Election Drama Has BlackRock to Loomis Cutting Pound Wagers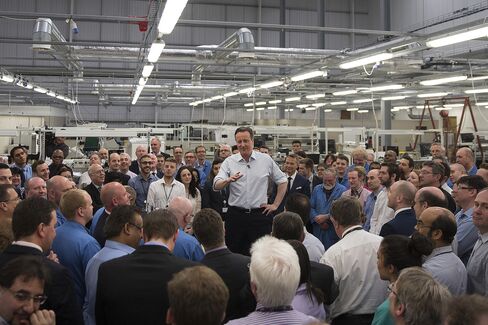 Currency investors managing trillions of dollars are sitting out the U.K.'s closest election since the 1970s.
BlackRock Inc., Citigroup Inc.'s private-banking unit and Loomis Sayles & Co. have all cut their exposure to the pound as the cost jumps for options to hedge against its declines.
Volatility in the currency is surging, with anticipated price swings suggesting the final outcome of the election might not be known for weeks after Thursday's vote. Opinion polls show the Conservative and Labour parties are neck and neck, with neither likely to gain enough support to govern without the help of smaller parties.
"Once the dust settles, we'd need to see a sufficiently benign political climate to attract capital inflows," said Ken Buntrock, co-portfolio manager of the global bond fund of Boston-based Loomis, which oversees $241 billion. We will buy the U.K. currency "only on weakness, given the high uncertainty."
The unpredictability of the May 7 election has, in the past four weeks alone, sent the pound tumbling to a five-year low against the dollar and spurred its best monthly rally since 2013. It's down 2.3 percent this year at $1.5219 as of 8:14 a.m. in New York, with forecasters surveyed by Bloomberg predicting another 3 percent drop by the end of next month to $1.47.
Coalition Talks
Those declines may be just the beginning, investors say, if smaller parties with policies ranging from quitting the European Union to ceasing budget austerity end up sharing power. If no single party wins an overall majority in the 650-seat House of Commons, the horse-trading will begin.
"There's a lot of political uncertainty, so U.K. markets have been held back because of it," said Steven Wieting, global chief investment strategist in New York at Citigroup's private bank, which cut its exposure to pound-denominated assets in November because of the election risks. "There are very different sets of policy options on both sides and different possible coalitions."
His company, a unit of the world's biggest currencies dealer, oversees $374 billion.
SNP Breakthrough
Opinion polls throughout the campaign have had Prime Minister David Cameron's Conservatives tied with Labour at about 33-34 percent of the vote, with the Scottish National Party -- which wants to increase government spending and backs independence -- on track to be the third-biggest group in parliament. The centrist Liberal Democrats, which five years ago joined with the Conservatives to form Britain's first coalition government since World War II, are seen hemorrhaging support.
A re-run of that Conservative-LibDem government would be the best outcome for the pound, while the prospect of the SNP as "king-maker scares the hell out of Englishmen," said Paresh Upadhyaya, director of currency strategy at Pioneer Investment Management Inc. in Boston.
"The government's not something that will be hammered out right away," said Upadhyaya, whose company oversees about $244 billion. "You just don't know what kind of volatility we'll see. Sterling is going to remain under pressure."
He recommended selling the pound until it falls to $1.45.
Bearish Trades
Options traders agree. In a bearish signal, the premium on three-month contracts to sell the pound versus the dollar compared with those to buy has widened to 2.1 percentage points, from 1.8 points in the middle of April, data compiled by Bloomberg show.
Volatility has also surged on the vagaries of the election. The one-week implied measure climbed to 18.7 percent on Wednesday, exceeding the 17.5 percent peak during September's referendum on Scottish independence and the highest since the last election in May 2010.
BlackRock reduced its pound exposure heading into the election and will only consider reversing course if established parties form the government, money manager Gordon Ibrahim said in an April 24 interview in London.
The latest data from the Commodity Futures Trading Commission in Washington show investors are paring bets for the pound weakening, too. Net wagers on a decline against the dollar are about 25 percent below their peak in January.
"We don't really know what's going to happen with the election -- it's too close to call -- so it's very hard to make investment decisions," said Roger Bridges, the chief global strategist for interest rates and currencies at Nikko Asset Management in Sydney, which oversees $160 billion globally.
Bridges said he's "fairly square" -- or neutral -- on his exposure to sterling government bonds going into the election. "There's a lot of uncertainty," he said. The pound will remain "vulnerable."
Before it's here, it's on the Bloomberg Terminal.
LEARN MORE