The Big Irish Flip: Fortunes Made, Smart Money Eyes Next Score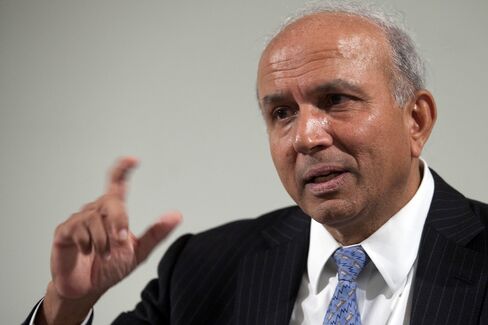 The world's biggest investors came hunting for bargains in Ireland after its economy collapsed. With fortunes made, some are cashing in their chips.
Michael Hasenstab, the Franklin Templeton bond manager who wagered billions of dollars on Irish sovereign debt in 2011, is selling most of his investment in the nation's bonds, which have returned 142 percent from their lowest point. Less than a year after partner Wilbur Ross headed for the exit, Fairfax Financial Holdings Ltd. five weeks ago cut in half its stake in bailed-out Bank of Ireland Plc after the lender's shares almost quadrupled since the firm bought them.
"Our selling should definitely be seen as a positive sign," said Prem Watsa, chairman and chief executive officer of Toronto-based Fairfax. "There are simply other value-investing opportunities in other areas of the world that haven't recovered yet."
The sales show the rewards for investors who gambled on a country in the grips of a failing banking system and the worst property crash in western Europe. Just over four years since the nation was forced to seek an international bailout, Ireland is once more the fastest-growing economy in the euro region.
Now, the billions made in Ireland are rippling around the globe, as the nation's one-time saviors look to war-torn Ukraine, real estate in Singapore, pet insurance in Canada and Cypriot bonds for the next big score.
"The juicy distressed-debt trade that we had in Ireland, those days are long gone," said Russel Matthews, a portfolio manager at Bluebay Asset Management LLP, which wagered on Irish sovereign and bank debt after the bailout. "It's no longer a distressed credit, it's now a much more solid, dependable and stable name. That's the journey that the country has been on."
Plunging Yield
Ireland's housing market outperformed every other in the world in 2014, and the country's stock market has risen 27 percent over the past year, more than double the gain in the S&P 500 Index. The yield on Irish 10-year bonds has plunged below 1 percent from a peak of 14.2 percent in July 2011, months after Ireland sought a bailout.
For some investors, the December 2010 rescue was the signal to start looking at Ireland. Siegmut Boehm, who manages German family fortunes as head of AM Alpha Gmbh in Munich, bought an office block close to the River Liffey for about 36 million euros in June 2012. Boehm, who is now trawling Singapore for residential property, sold the offices for 49 million euros about 18 months later.
"When we entered the market, it was a bit like doomsday in the Irish office market," Boehm said. "It was very frightening for anyone. But from our side, it was a macro bet on Ireland because we thought that Ireland wouldn't leave the euro zone."
Prem Profit
About 3,300 miles away in Toronto, Prem Watsa is also counting his profits. Four years ago, Watsa and U.S. billionaire Wilbur Ross were part of a group that paid about 1.1 billion euros for a stake in Dublin-based Bank of Ireland. A month ago, Fairfax sold a third of its original investment for more than three-and-a-half times the 10 cents a share it paid. It also sold a third last year.
"No one wanted to invest in Irish government bonds, let alone a bank in Ireland," Watsa said. "The world has completely changed and Ireland is back to leading the way."
After shrinking about 15 percent during the crisis, the economy will grow about 4 percent this year, the government forecasts.
Franklin's Hasenstab has been the biggest winner from the recovery. In 2011, Hasenstab began an 8 billion-euro wager that made Franklin the biggest private holder of Irish sovereign debt. Now, he's moving on.
Ukraine Bet
In the six months through March, the holdings of Irish bonds in two Franklin Templeton funds fell by 73 percent, or by 5 billion euros, to 1.8 billion euros. Hasenstab said Ireland's crisis management will "remain an important model from which other countries can learn."
Hasenstab's firm is now the biggest holder of Ukrainian sovereign debt, after loading up on more than $7 billion of its bonds, and is now negotiating with the government as the nation's seeks to restructure its debts.
Prem's Fairfax agreed to buy U.K. insurer Brit Plc this year, after buying Pethealth Inc., North America's second-largest pet insurer, for C$100 million ($82.7 million) in 2014.
"It's no surprise that some big investors are taking their chips off the table," said Matthews, the portfolio manager at Bluebay. "The trade has really run its course for now."
Bluebay started buying Irish bank debts in late 2011, including a government guaranteed five-year Allied Irish Banks Plc bond, Matthews said. The AIB bonds had a total return of 58 percent for the two years through 2013.
While the firm still invests in some of the nation's sovereign debt, one of its favorite trades is now Cypriot bonds, he said.
Big Bull
Some investors are holding tight, saying the Irish story has a way to run yet. Marathon Asset Management LP's CEO Bruce Richards is investing in Europe, partly betting that a weakened euro will buttress the region's growth.
The New York-based hedge fund bought a non-performing loan tied to almost 600 multifamily units in Dublin, Richards said in a Bloomberg Television interview last month. It's his firm's 12th Irish deal, he said.
"We're big-time bullish," he said on Bloomberg TV's "Market Makers" program. "We continue to buy loans."
Others are more cautious.
"Clearly the opportunity to make five or more times an investment stake in six years has passed," said Michael Shaoul, CEO of Marketfield Asset Management LLC, which owns shares in Bank of Ireland. "But the risk of investing has also collapsed over this period."
Before it's here, it's on the Bloomberg Terminal.
LEARN MORE