Texas Gunmen Said to Draw Inspiration From Terror Groups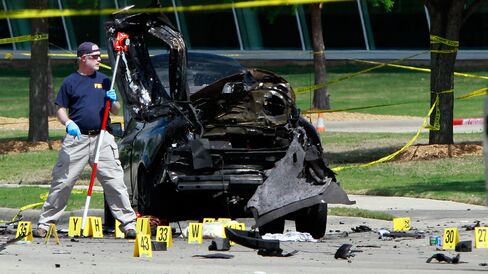 Two gunmen who attacked an exhibition in Texas of cartoons depicting the Prophet Muhammad were most likely inspired, but not directed, by terrorist groups overseas, a U.S. official said.
Islamic State claimed in a radio broadcast that it was responsible for the attack, which ended with two suspects shot dead in a gun battle with police on Sunday outside a conference center in a Dallas suburb. A security guard was injured.
The assailants, clad in body armor and brandishing assault rifles, were seeking to attack an exhibition of Prophet Muhammad cartoons hosted by the American Freedom Defense Initiative, a New York-based group whose leader has spoken out against what she calls the "Islamization" of the U.S. Such depictions of Muhammad are considered an insult by Muslims.
The U.S. official, speaking on condition of anonymity because the investigation is under way, said federal agents haven't uncovered any evidence that the two gunmen were told by Islamic State to target the conference. That could change as FBI agents continue reviewing the assailants' communications and Internet histories, the official said.
Awaiting Facts
White House press secretary Josh Earnest said the administration isn't ready to rule in or rule out any connection to Islamic State or other radical groups until more facts are known.
There are attempts by extremist groups around the world to radicalize and recruit individuals via social media, including in the U.S., Earnest said. The government is "very vigilant" in trying to intercept people suspected of radicalization before they act, he said.
He declined to comment on the group that hosted the targeted exhibit of cartoons. "There's no justification for an act of violence, an attempted act of terrorism, like the one that we saw," Earnest said.
The two dead men have been identified as Elton Simpson, 30, and his roommate, Nadir Soofi, 34, of Phoenix.
Simpson has long been on the radar of federal agents concerned about his ties to terrorism. In 2010, he was indicted on federal charges of lying to FBI agents about his desire to travel to Somalia to wage jihad. A federal judge found Simpson guilty of lying to agents about having discussed his wish to go to Somalia, but she ruled that the government failed to prove he was seeking to fight there.
Top federal law enforcement officials have warned for months of their increasing concern that "lone wolf" actors could be inspired to hostilities by extremist rhetoric and that terrorist groups would then claim credit. Former Attorney General Eric Holder said in February that such inspired attacks represented a "new era" in terrorism.
U.S. officials point to various recent attacks as evidence of their concerns: a deadly rampage in Paris in January that involved, in part, an attack on a satirical magazine that published images of Muhammad; a December siege at a Sydney cafe in which two hostages were slain; and an October shooting spree and separate car attack in Ottawa that killed two.
"We continue to be keenly aware and vigilant about the threat that is posed by a so-called lone wolf," Earnest said.
Before it's here, it's on the Bloomberg Terminal.
LEARN MORE