Swipe Right? The Winner of the 2015 Sohn Investment Idea Contest Loves Tinder
And also thinks a Morgan Stanley analyst lives "under a rock"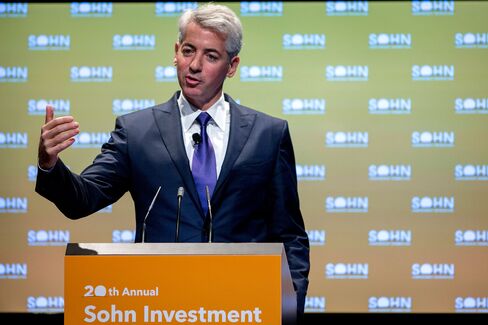 Celebrated investors such as David Einhorn and Bill Ackman may be the headliners of the annual Sohn Investment Conference in New York, but the organization's 'Investment Idea Contest' often provides great market insight as well.
Both professionals and students are welcome to participate, and the group of judges—chaired by investor Joel Greenblatt and including well-known investors Bill Ackman, David Einhorn, Seth Klarman and Michael Price—seek to identify the most timely and useful investment idea, which is then featured at the conference.
This year's winner, Angelo Martorell of the Wharton School, was able to give a 10-minute presentation on his investment idea, IAC/InterActiveCorp, to the more than 3,000 attending the conference. Martorell's investment thesis revolved around Tinder, where he says the "sum of the parts analysis that is used by the Street does not acknowledge the value of Tinder, giving us a free option." He went on to say that the Morgan Stanley analyst who sees no upside in Tinder must be a "happily married man." Here is a link to his full presentation.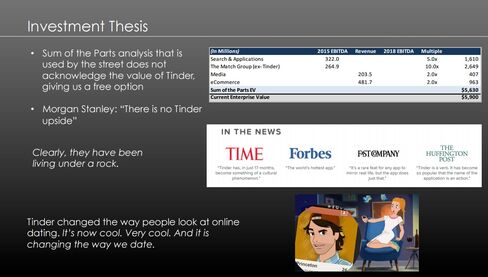 And here are some additional finalists, with links to their presentations.
Finalists:
Arthur Baer, Cavendish Fund Management: PINC
Arthur recommends shorting Premier, a health-care services company he believes has a fair value of $14.50 a share—about 60 percent lower than the current market price. Baer's thesis says "Premier's accounting obfuscates the economic reality of its business by publishing misleading financial statements that omit significant expenses required for ongoing operations."
Sean Murphy, Game Creek Capital: TV
Murphey recommends investors buy Grupo Televisa, the largest media company in the Spanish-speaking world, based on its market cap. He believes the company has 24 percent upside in his "Base Case" scenario.
Lily Miao, The Wharton School: CSU
Lily Miao pitched Constellation Software, a company she recommends investors buy due to a "Stellar CEO and management team and history of smart capital allocation and ability to integrate acquisitions."
Venkata Amarthaluru, University of Pennsylvania: GRA
Amarthaluru's recommendation regarding WR Grace was a bit more complicated that the others. He says investors should "buy Grace's stock pre-spin with the intention of selling Grace Construction Products stock following its spin-off in 2016 and holding New-Grace over at least a 3 year period to realize a projected asymmetric equity upside of 40.08%." He argues that there is consensus mispricing due to "Grace's post-bankruptcy status, understatement of excess assets, and overlooked margin improvement potential."
Before it's here, it's on the Bloomberg Terminal.
LEARN MORE