Pickup in Service Industries Points to U.S. Growth Rebound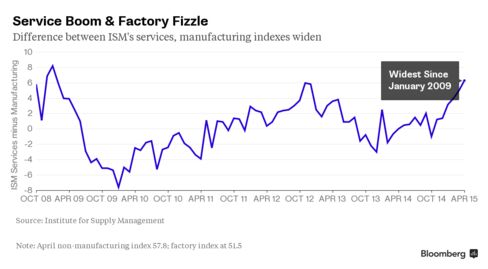 The biggest part of the U.S. economy awoke from its first-quarter torpor as service industries from real estate to transportation and banking picked up in April.
The Institute for Supply Management's non-manufacturing index rose to 57.8, the highest since November, from 56.5 in March, the Tempe, Arizona-based group's report showed Tuesday. Readings above 50 signal expansion.
Services, which constitute about 90 percent of the economy, are benefiting from a plunge in oil prices that is giving consumers extra cash to spend at retailers, restaurants and movie theaters even as it heaps damage on factories.
This bodes well for a pickup in growth and employment, which could use the boost. Another report showed the trade gap ballooned in March, signaling gross domestic product probably shrank in the first quarter.
"It shows a fair amount of momentum in activity," said Samuel Coffin, an economist at UBS Securities LLC in New York, who predicted the services gauge would rise. "We'll see a decent rebound in the economy this quarter though not a full reversal of the first-quarter weakness, and more momentum later on in the year as the trade drag dissipates."
Bonds slumped globally as a rebound in oil prices and improving economic prospects added to signs that inflation will accelerate. The yield on the benchmark 10-year U.S. Treasury note climbed to 2.17 percent at 4:26 p.m. in New York compared with 2.15 percent late Monday. Stocks fell the most in a month on speculation Greece won't be able to resolve its debt crisis.
Bloomberg Survey
The ISM's services index surpassed all estimates in a Bloomberg survey of 78 economists. The median forecast called for a drop to 56.2. Projections ranged from 54 to 57.5.
The group's non-manufacturing survey covers an array of industries including utilities, retailing, and health care, and also factors in construction and agriculture.
Arts and entertainment, real estate firms, and rental companies led the list of the 14 non-manufacturing industries that reported growth in April. Mining was among the four that contracted.
The report showed the group's employment gauge rose to a six-month high, while the measure of new orders, considered a leading indicator, was the strongest in three months.
For business activity, 40 percent of respondents, the most since June 2007, reported a pickup in growth.
The report "looks consistent with stronger hiring than March payrolls," said Coffin. "The labor market should be pretty healthy this year."
Payroll Forecast
A report Friday is projected to show employers added 230,000 workers to payrolls in April after a 126,000 gain the prior month that was the smallest in more than a year, according to the median forecast of economists surveyed by Bloomberg.
In contrast with the services gauge, the ISM's factory survey released last week showed more weakness. It held last month at an almost two-year low. Still, its more forward-looking indicator on bookings reached a four-month high.
The advance in the dollar since mid-2014 and the global drop in oil prices have taken a toll on business investment and exports, causing the world's largest economy to almost stall in early 2015. Temporary restraints including harsh winter weather and delays at West Coast ports also played a role.
The U.S. trade deficit widened in March to the highest level in more than six years, fueled by a record surge in imports as commercial activity resumed at the ports, a report from the Commerce Department showed Tuesday.
Trade Gap
The gap increased 43.1 percent, the biggest jump in 18 years, to $51.4 billion, the largest since October 2008. The shortfall exceeded the highest estimate of 70 economists surveyed by Bloomberg. Purchases of foreign-produced foods, capital goods and consumer products all set records, while demand for petroleum dropped.
"The ending of the port strike seemed to really only have a material effect on imports, not on exports," said Michael Feroli, chief U.S. economist at JPMorgan Chase & Co. in New York and the second-best forecaster of the trade balance over the past two years, according to data compiled by Bloomberg. "When we smooth through the data, it looks like the trend in imports is moving higher whereas the trend in exports looks kind of soft."
The latest data available showed the U.S. economy grew at a 0.2 percent annualized pace in the first quarter after advancing at a 2.2 percent rate in the previous three months. A widening trade gap subtracted 1.25 percentage points from growth.
Economy Shrank
The bigger-than-projected jump in the deficit probably means Commerce Department revisions issued later this month will show the economy contracted in the first quarter.
"For the first quarter, this has some pretty adverse implications for GDP growth," said Feroli. He now sees GDP shrinking at a 0.5 percent rate in the first three months of the year. "That import number is really eye-catching."
Part of the surge in imports reflects sustained gains in hiring and a pickup in wages that are encouraging Americans to purchase more goods and services. Lower fuel bills also are lifting confidence and boosting purchasing power.
Carmakers and auto dealerships are benefiting as low fuel prices continue to drive demand for pickups and sport utility vehicles. General Motors Co.'s sales in April exceeded analysts' projections though Ford Motor Co. and Nissan Motor Co. reported gains that were less than predicted.
While recent economic data have been mixed, "some higher frequency indices point to improvement ahead," Yong Yang, Ford's senior economist, said on a May 1 sales call with analysts. "Overall, we believe that the underlying fundamentals supporting growth in 2015 remain in place."
Part of any improvement will probably be driven by housing as the industry makes gradual progress. Sales of previously owned homes climbed in March to the highest level since September 2013, according to figures from the National Association of Realtors. Purchases of new houses, tracked by the Commerce Department, slumped in March from a seven-year high.
Before it's here, it's on the Bloomberg Terminal.
LEARN MORE