Schaeuble Says Work Not Ready for Greek Aid Deal by Deadline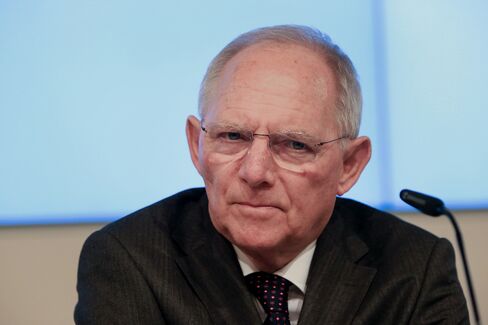 Greece and its creditors may not be able to complete preparatory work needed for an agreement on financial aid before euro-area finance ministers meet in Brussels next week, German Finance Minister Wolfgang Schaeuble said.
With about 1 billion euros ($1.1 billion) of payments due to the International Monetary Fund by May 12, Schaeuble welcomed the newly "constructive" approach of Greek officials to the negotiations. He nonetheless warned that it may come too late to release aid at the May 11 gathering.
"The Eurogroup will take up these matters only on the basis of the comprehensive report by the institutions," Schaeuble said at a press conference in Berlin Tuesday, referring to the European Commission, the European Central Bank and the IMF. "I'm rather skeptical that we can get there by Monday, but I'm not ruling it out."
Euro-area finance chiefs are urging Greece to bow to their terms for releasing aid within days to avert a potential cash crunch with payments to the IMF due on May 6 and May 12. European officials are concerned that Greece may struggle to meet its obligations this month unless Greek Prime Minister Alexis Tsipras drops his opposition to cutting pensions and making it easier to fire workers.
The dollar snapped a three-day gain after the U.S. trade deficit widened in March to the highest level in more than six years. The euro gained 0.5 percent at 8:16 p.m. Berlin time to $1.1199.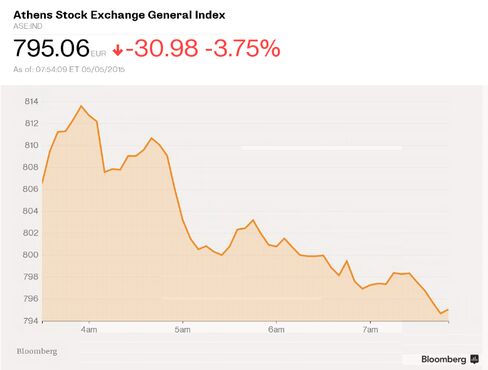 EU Pressure
With Greek officials fanning out across the continent to plead their case, Portuguese Finance Minister Maria Luis Albuquerque said the currency bloc won't make contingency plans to prepare for a possible breakdown in talks and encouraged Tsipras to take the offer on the table.
"It has been difficult but we still hope it will be possible to have a good outcome of this discussion," Albuquerque said in a television interview in London.
Schaeuble said in an evening speech in Berlin that governments have made "enormous" progress in stabilizing the euro region, where there's "almost no -- only marginal -- danger of contagion in markets."
Spanish finance chief Luis de Guindos held out the prospect of some flexibility on the conditions for releasing aid at a committee hearing in the parliament in Madrid, even as he highlighted Greece's perilous financial position.
"We are confident that there will be some steps ahead in the coming days," de Guindos said. "It's important that that happens because Greece's liquidity situation is getting increasingly complicated."
Diplomatic Push
As negotiations aimed at easing Greece's liquidity crisis continue, Greek Finance Minister Yanis Varoufakis held a "useful" meeting with his French counterpart Michel Sapin in Paris, according to an e-mailed statement from the government in Athens.
Tsipras has also spoken with International Monetary Fund Managing Director Christine Lagarde about the state of the negotiations, the IMF said late Monday.
"We will within the range of our possibilities do everything to avoid" a Greek default, Schaeuble said. "But just within the framework of what we have agreed. We have no other mandate."
Before it's here, it's on the Bloomberg Terminal.
LEARN MORE