Obama Immigration Opponents Urge Court to Keep Plan on Hold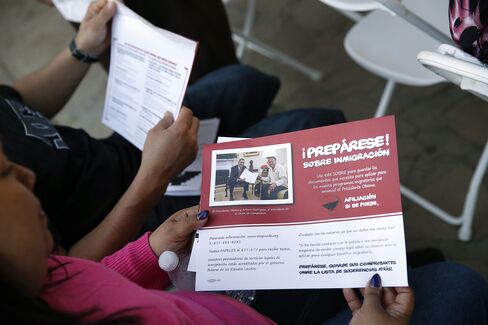 Texas and other states suing to overturn President Barack Obama's immigration initiative asked an appeals court to keep in place a judge's order blocking the program until a final decision on whether it's legal.
Texas and about two dozen states said the consequences of the administration's program, which could allow as many as 5 million undocumented immigrants to stay in the U.S., can't be undone if it's allowed to go into effect. They accuse Obama of overstepping the constitutional limits on his power.
"Congress has not given the executive carte blanche to grant lawful presence to aliens," the states said Monday in a filing asking the U.S. Court of Appeals in New Orleans not to reverse the lower court's injunction. "Nor has Congress granted the executive free rein to grant work authorizations to aliens."
The appeals court on April 17 heard arguments on the administration's request to put on hold the February order by U.S. District Judge Andrew Hanen, in Brownsville, Texas, while it appeals. The three-judge panel hasn't ruled on that request yet and has scheduled a hearing in July on the administration's request to overturn the ruling.
"The district court did not abuse its discretion in enjoining the executive's attempt to rewrite immigration law by unilaterally conferring lawful presence on a class of millions of unauthorized aliens," the states said in Monday's filing.
Education, Law Enforcement
Texas and the other states allege that the immigration policy will cause them to incur additional costs for issuing driver licenses and for providing health care, education and law-enforcement services. They also contend they have to protect their citizens from labor-market distortions related to immigration.
The White House argues it can marshal scarce border-security resources and enforce immigration laws how it chooses. The administration also claims the new rules don't trigger federal policy-making regulations, as the states contend, because immigration agents retain discretion to gauge each applicant on a case-by-case basis.
Obama's order has become a flashpoint in Washington, with Republican lawmakers maintaining that his actions were unconstitutional. In February, House Republicans threatened to withhold funds for the Department of Homeland Security over the program, and passed a bill just before funding was set to expire.
The 26 states sued in December to derail Obama's deferred-action initiative, calling it illegal executive amnesty. They claim the president lacks authority to alter immigration laws and award federal benefits to undocumented immigrants without the approval of Congress or U.S. judges.
The appellate case is Texas v. U.S., 15-40238, U.S. Court of Appeals for the Fifth Circuit (New Orleans). The lower-court case is Texas v. U.S., 1:14-00254, U.S. District Court, Southern District of Texas (Brownsville).
Before it's here, it's on the Bloomberg Terminal.
LEARN MORE