Nordic Funds Cut U.S. Oil, Coal Investments on Climate Concern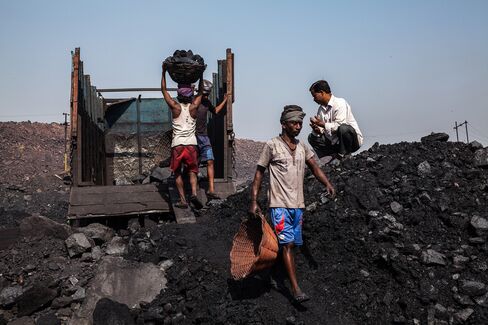 Slumping commodity prices and growing public concern over climate change have pushed Nordic funds that control $1.3 trillion in investments to cut support for U.S. fossil-fuel companies led by the oil producer EOG Resources Inc. and the coal miner Peabody Energy Corp.
The investors, including Norway's $900 billion sovereign wealth fund and Nordea Bank AB from Sweden, have also sold off holdings in Devon Energy Corp., Cabot Oil & Gas Corp. and the utility American Electric Power Inc., according to research from Bloomberg Intelligence.
While the fossil-divestment movement has been building for years, the research is among the first to show exactly which companies are feeling the shift. The research also examined the holdings of the pension funds KLP in Norway, PKA in Denmark and AP2 of Sweden.
"It's moving from being an ethical issue to being framed much more as an investment risk," said Gregory Elders, a London-based analyst at Bloomberg Intelligence who follows environmental, social and governance issues. "Everyone has been reluctant to divest when commodities prices were high, but that's changing now."
Nordea is in the process of evaluating its exposure to coal producers and is looking at about 30 companies worldwide, according to Sasja Beslik, head of responsible investments at the Nordic region's biggest bank. PKA's decision to divest from 31 coal-mining companies is a "natural step," and the fund will ask 23 more companies it holds to reduce their exposure to coal, spokesman Thomas Knudsen said by e-mail.
Exiting Coal
AP2 said in October that it would exit 12 coal and eight oil companies because of their impact on the climate. KLP and PKA identified 38 companies that they would divest, including coal companies like Coal India Ltd., Yanzhou Coal Mining Co. and Exxaro Resources Ltd., according to the Bloomberg Intelligence.
"For us it's a financial issue," said Christina Olivecrona, AP2's sustainability analyst. "Return is our highest objective."
Norges Bank Investment Management, which manages Norway's sovereign wealth fund, has already divested most of its holdings in pure coal producers, Chief Executive Officer Yngve Slyngstad said on May 4. The fund still has 493 million kroner ($65 million) left in pure coal producers. It has divested from an additional 12 companies this year, focusing on deforestation, water and climate emissions, he said.
Company Response
One company affected by divestment didn't indicate concern.
"While Devon will not discuss specific shareholders, we can say that this type of divestment scenario is almost never a topic of discussion with investors," John Porretto, a spokesman for Oklahoma City-based Devon Energy Corp., said in a e-mailed response to questions. "Devon has a well-earned reputation as a responsible producer of oil and natural gas, without which the world could not enjoy the same standard of living."
The fossil-free funds may be building up an advantage over their peers that invest in the most polluting forms of energy. Indexes that track lower carbon-emitting companies generally outperformed their broader benchmarks this year, Elders said.
The Solactive CK Low Carbon U.S. Index had a 2.6 percent return over three months compared with S&P 500's 1.6 percent return.
A slump in the price of oil to less than $50 a barrel in March, half the level of a year ago, contributed to oil and coal shares underperforming. It also fed the divestment activists led by the U.S. environmentalist Bill McKibben, who argue that growing concerns about climate change will prompt regulation forcing oil and coal companies to leave most of their reserves in the ground -- stranding trillions of dollars of investments.
Coal Prices
Coal prices have fallen too, although not as sharply. Shares of American Electric Power Co. were among the most sold U.S. utilities by Norges Bank and AP2, the Bloomberg research showed.
Glasgow University in Scotland and Stanford in California along with the Rockefeller Brothers Foundation, the British Medical Association and Church of England have joined the divestment movement, and Elders expects more to follow.
"There's going to be a wider shift away from fossil fuel investments," Elders said. "Climate change is moving up the investment agenda."
Before it's here, it's on the Bloomberg Terminal.
LEARN MORE