Niesr Cuts 2015 Growth Forecast on Eve of U.K. General Election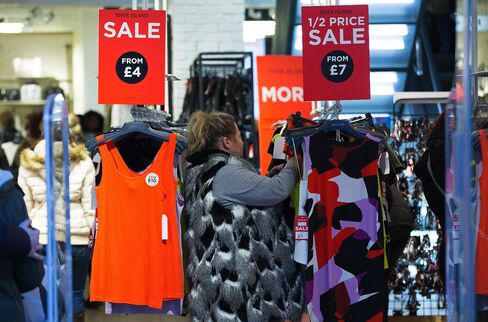 A leading researcher cut its growth forecast for the U.K. economy, dealing a blow to Prime Minister David Cameron on the eve of the tightest election in a generation.
Gross domestic product will expand 2.5 percent this year instead of the 2.9 percent predicted in February, the National Institute of Economic and Social Research said on Wednesday. The London-based group, whose clients include the Bank of England and the Treasury, lowered its estimate after the economy had its worst performance since 2012 during the first quarter.
While Niesr expects the economy to rebound in the current quarter, that may not stop opposition politicians seizing on the downgrade to 2015 as they try to sway voters in the final hours of campaigning. Cameron's Conservatives and Ed Miliband's Labour Party remain tied in opinion polls, with neither on course to win enough seats in Parliament on Thursday to govern alone.
Niesr forecasts that growth will accelerate to 0.8 percent this quarter after it slowed to 0.3 percent in the first three months, half the pace of the previous period. The group also raised its growth forecasts for 2016 and 2017 to 2.4 percent and 2.5 percent, respectively. It previously projected 2.3 percent in both years.
The "major domestic risk" to the outlook is Britain's productivity performance, which unlike the U.S. has yet to see a substantial improvement following the recession, according to Niesr economist Simon Kirby. With the unemployment rate likely to bottom out at 5.3 percent in the second quarter, future growth will have to come more from increasing output per worker, he said.
"The crucial risk from the U.K. perspective is that we don't see this productivity performance pick up," which could restrict an improvement in living standards, he told a press conference.
Before it's here, it's on the Bloomberg Terminal.
LEARN MORE