Netflix, Cogent Urge U.S. to Restrain AT&T in DirecTV Deal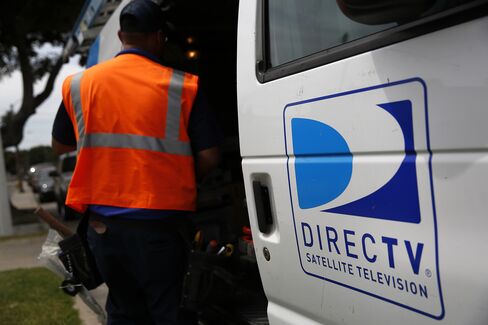 Netflix Inc. urged the U.S. to reject AT&T Inc.'s proposed purchase of DirecTV unless the government restricts the combined company's ability to collect fees for accepting Internet traffic.
Data carrier Cogent Communications Holdings Inc. also called for merger conditions to ensure Web services aren't harmed, according to a regulatory filing.
The input of Netflix and Cogent calls attention to Internet-traffic issues in the $48.5 billion merger, as the two companies had argued against Comcast Corp.'s bid for Time Warner Cable Inc. In that proposed merger, which collapsed last month amid government scrutiny, regulators expressed concern that online video competition would be harmed.
It may be "good news" for the AT&T deal that Netflix and Cogent are asking for conditions, said Craig Moffett, an analyst at MoffettNathanson who expects the deal to close.
"The broad consensus is that Netflix played a central role in scuttling the Comcast deal," Moffett said. Now, he said, "two of the most ardent opponents are tacitly blessing the idea of the merger as long as there are appropriate conditions."
DirecTV Chairman Michael White on an earnings conference call Tuesday said he expects the deal to close this quarter.
Once it acquires DirecTV and its video business, AT&T will have an increased incentive to hinder streaming entertainment offerings, Netflix and Cogent said in filings dated May 4 and April 30 at the Federal Communications Commission. Netflix's filing, in which it asked the FCC to "reject the merger as it as currently proposed," appeared on the FCC website Tuesday.
'Appropriate Remedies'
"We are not opposing the merger," Anne Marie Squeo, a Netflix spokeswoman, said in an e-mailed statement. "We've been highlighting concerns about AT&T's broadband practices and the need for appropriate remedies."
Netflix earlier told the FCC that competitive harm from the $48.5 billion tie-up of the biggest U.S. telephone and satellite-TV companies might be avoided through conditions to ensure "the combined entity cannot abuse its control over Internet traffic." It asked regulators to keep AT&T from charging content providers to connect to its network; Cogent also requested restrictions.
AT&T and DirecTV last month told the FCC they would help expand the availability of broadband Internet and offer more competition to cable-TV.
Michael Balmoris, an AT&T spokesman, declined to comment as did Neil Grace, an FCC spokesman.
Before it's here, it's on the Bloomberg Terminal.
LEARN MORE