N.Y. Republicans Back Majority Leader Amid Corruption Charges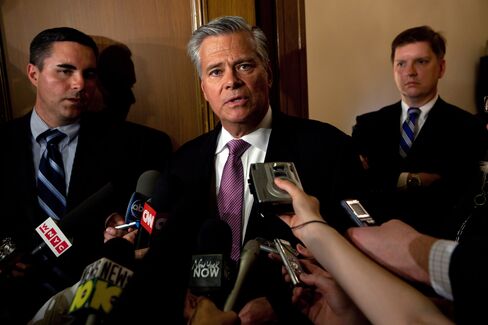 New York Senate Majority Leader Dean Skelos will retain his leadership post after being charged in a bribery plot with his son, Senator Kenneth LaValle, the Republican conference chairman, told reporters in Albany.
The decision to keep Skelos in his post as the Republican leader in the state's upper chamber, which he's held since 2008, followed a more than three-hour closed door meeting in which Skelos addressed the conference personally, LaValle said Monday. Earlier, Skelos, 67, pleaded not guilty in a Manhattan federal court and said he'd be found innocent of the charges.
The Republicans believe in the presumption of innocence, LaValle said.
"The leader has indicated he would like to remain as leader and he has the support of the conference," LaValle said. "The conference wants to get back into working."
Skelos follows former New York Assembly Speaker Sheldon Silver in being accused of using his office as a tool for personal gain. Silver resigned from the post he held for more than two decades Feb. 2 after losing support of his fellow Democrats. They had initially backed him after his Jan. 22 arrest.
Arrested, Charged
Skelos and his son, Adam, 32, were arrested and charged with running a scheme over five years in which Skelos pressured real estate developers and an environmental technology company to get Adam jobs in exchange for favorable treatment in the Legislature, prosecutors said in announcing their case, which was built using phone taps and cooperating witnesses. Adam Skelos has also said he's innocent.
Skelos will stay on in his post at least through the end of the legislative session in June. During that time, the legislature will have to negotiate with Governor Andrew Cuomo, a Democrat, over extending New York City rent regulation laws that expire June 15. Skelos is accused of using his power over those laws and other New York City-related real estate regulations in pressuring the developer, according to a complaint filed Monday.
LaValle said Skelos continuing as chief negotiator on those items won't be a problem.
"We're going to get focused as a conference with our leader in addressing all of those issues," he said.
Before it's here, it's on the Bloomberg Terminal.
LEARN MORE