Lufthansa Points at Pension Costs Marring Earnings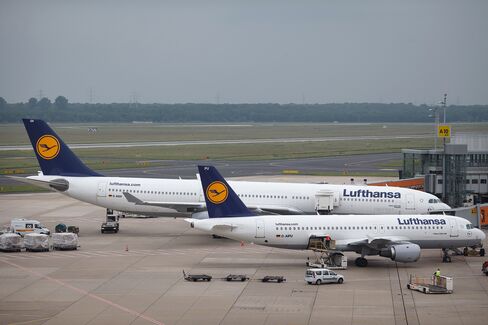 Deutsche Lufthansa AG said it sees "great pressure to act" to reduce a swelling pension deficit as it seeks to overcome a series of strikes that cast a shadow on first-quarter earnings.
Pension provisions surged 41 percent to 10.2 billion euros ($11.3 billion) in the three months ended March 31, pushing the equity ratio down to 7.5 percent, the company said in an earnings report Tuesday. The shares traded 0.4 percent higher at 12.72 euros as of 10:26 a.m. after initially dropping as much as 1.6 percent in Frankfurt.
Lufthansa pilots have staged six days of walkouts this year in a conflict over retirement benefits expected to cost the company 100 million euros in direct expenses and lost bookings. Flight cancellations caused by strikes cost 42 million euros in the first three months even as a decline in fuel expenses helped to shrink the loss before interest and tax to 144 million euros from 217 million euros.
"The pensions and the deteriorating equity ratio are clearly negative, and if you are bearish, you may want to call for a capital increase," said Jochen Rothenbacher, an analyst at Equinet Bank in Frankfurt. "Still, it makes absolutely no sense for Lufthansa to do that before they have resolved the conflict with the pilots."
Still Reeling
Cologne-based Lufthansa is still reeling from the deadliest crash in its history, when a co-pilot at its Germanwings unit flew an Airbus A320 into the French Alps in March, killing all 150 people on board. Even before the disaster, it struggled with fallout from the labor disputes as well as pressure from low-cost competitors and carriers in the Persian Gulf attacking on long-haul routes.
Lufthansa has offered the Vereinigung Cockpit union arbitration on a set of collective agreements. The union hasn't yet said if it will accept the offer.
It's feasible Lufthansa may sell new shares once the company resolves the pilot dispute, which may occur in the next five or six months, said Rothenbacher.
Chief Executive Officer Carsten Spohr last week said the company, which is targeting an equity ratio of about 25 percent, has no current plans for a capital increase, and that he did not expect the company's credit rating to be downgraded.
The ratio of shareholders' equity to total assets is a measure used to assess financial strength and test the soundness of a company's capital structure. A higher ratio offers freer access to capital at lower interest rates while a lower ratio makes a company more prone to losses.
Advance Bookings
The Germanwings crash has hurt advance bookings, Lufthansa said Tuesday, without quantifying the impact. It's holding to its goal for a significant increase in earnings from passenger airlines this year.
Lufthansa reiterated that earnings before interest and taxes will rise to more than 1.5 billion euros in 2015, when adjusted for pension charges, the effects of asset disposals and impairments. The forecast does not include costs of strikes and restructuring, Lufthansa said, adding that downside risks have increased.
First-quarter sales rose 7.9 percent to 6.97 billion euros, helped by exchange rate effects. The company reported net income of 425 million euros, compared with a loss of 252 million euros the year earlier, benefiting from the effects of swapping a convertible bond into shares of JetBlue Airways Corp., which contributed 503 million euros to the financial result.
Yields, a measure of average fares, rose 3.7 percent in the quarter, lead by a 9 percent increase on routes to and from the Americas. Stripping out currency effects, yields worldwide fell 2.9 percent.
Expenses for fuel dropped by 209 million euros in the quarter, Lufthansa said. It estimates the fuel bill for the year to be about 6.2 billion euros, more than the 6 billion euros the company forecast in February on currency effects.
Before it's here, it's on the Bloomberg Terminal.
LEARN MORE