Kenya Drought, Empty Beaches May Force Rate Rise as Bonds Fall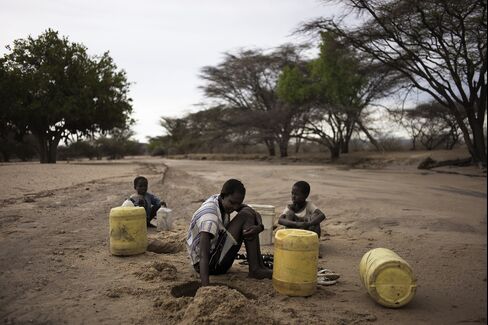 Pressure is building on the Central Bank of Kenya to increase borrowing costs this year as a weakening currency erodes returns on local debt, a drought hinders food production and Islamist militant attacks deter tourists.
While the central bank kept the key lending rate at 8.5 percent on Wednesday, the Kenyan shilling, at a 3 1/2-year low, is causing inflation to accelerate. That may mean the bank can't hold its position much longer and will need to raise rates for the first time since 2011, according to ETM Analytics. An index of local-currency government debt fell 1.4 percent during April in dollar terms, the most since July 2013, according to data compiled by Bloomberg.
"Inflation dynamics have picked up sharply in recent months as the windfall from a lower oil price filters out and local drought conditions hit food prices," Gareth Brickman, a market analyst at Johannesburg-based ETM, said in an e-mailed response to questions on May 4. "The market will be anticipating the potential for the benchmark interest rate to be hiked in due course."
Poor rains have boosted prices of crops including corn and potatoes and curbed production of black tea, of which Kenya is the world's biggest exporter. The drought, together with an attack on a university by Islamist insurgents in April, cut Kenya's biggest sources of foreign currency. The shilling's 4.7 percent retreat against the dollar this year pushed inflation to 7.1 percent in April, the highest since August, as food costs rose 13 percent.
Yields Rise
The central bank has tried to defend the shilling by tightening liquidity through the sale of repurchase agreements and term-auction deposits, pushing the interbank lending rate to 10.4 percent on May 4, the highest in more than eight months. The efforts aren't helping the shilling, which weakened 0.1 percent to 95.15 per dollar by 5:29 p.m. in Nairobi, the lowest level since November 2011.
The communications office at the central bank didn't immediately respond to e-mailed questions seeking comment and a spokesman didn't answer a call made to his mobile phone.
An index of local-currency government debt fell 1.4 percent in April on a dollar basis, the most since July 2013, according to data compiled by Bloomberg. Yields on shilling debt sold last year and due in January 2024 rose 15 basis points in 2015 to 12.4 percent on Tuesday.
Over-Reaction
"There were concerns over the currency," Alexander Muiruri, head of fixed-income trading at Nairobi-based Kestrel Capital Ltd., said by phone on May 4. "A lot of people did not want to bid for bonds thinking the weakening currency would cause interest rates to rise."
Tourist arrivals dropped 11 percent last year as insecurity and concern about an Ebola outbreak in west Africa deterred visitors, the government said last month. Al-Shabaab, an Islamist militant group based in neighboring Somalia, has carried out attacks that it said are retaliation for Kenya's deployment of troops across its border into Somalia. On April 2, an attack by the al-Qaeda-linked group left at least 147 people dead at Garissa University College in northeastern Kenya.
Even as the violence jolts tourism, the shilling weakens and yields climb, there's underlying strength in East Africa's biggest economy, according to Jacques Nel, an economist at Paarl, South Africa-based NKC Independent Economists. The World Bank projects growth of 6 percent this year as the country invests in infrastructure including roads and power plants, accelerating to 7 percent by 2017, the Washington-based lender said in March.
'Excessive Borrowing'
"Taking a longer-term view, it does look like markets have overreacted," Nel said by phone on May 5. "The country's economic fundamentals remain largely sound. While these factors are concerns, most of these elements should have temporary effects and market conditions are expected to improve."
While the government is projecting a revenue shortfall of 17.8 billion shillings ($187 million) for the fiscal year ending in June, it cut the domestic borrowing target as it expanded foreign funding and issued its debut Eurobond. Investors still aren't convinced it will meet the projection, according to Wegoki Mugeni, head of capital markets in East Africa at Standard Bank Group Ltd.'s Kenyan unit.
"Last financial year, the government overshot its domestic borrowing target by approximately 70 billion Kenya shillings," Mugeni said by e-mail on Tuesday. "Despite the government being comfortably ahead of its 118 billion-shilling domestic borrowing target currently, the market still seems unconvinced after last year's excessive borrowing."
The cabinet last month approved a 25 percent budget increase for the year starting in July. That poses a risk to financing the deficit and could mean higher local debt issuance, according to ETM's Brickman. With the shilling falling for a fifth straight day on Tuesday, the central bank's room to maintain its key rate may be narrowing.
"The CBK has been complacent on the monetary policy front, keeping rates too low for too long given the currency and inflation risks," he said. "I would expect local bonds to correct weaker even further over coming months."
Before it's here, it's on the Bloomberg Terminal.
LEARN MORE