Isiah Thomas Selected as President of WNBA's New York Liberty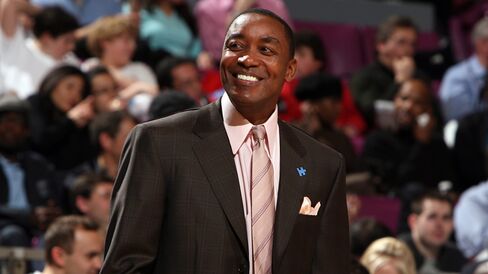 Thomas will take an ownership stake in the franchise

Fired by Knicks in 2008 after coaching team to 23-59 record
Isiah Thomas was selected as president and part owner of the WNBA's New York Liberty, reuniting with Madison Square Garden Co. more than seven years after he was fired as the Knicks' coach and head of basketball operations at the end of a tenure that included a sexual harassment lawsuit.
MSG, which owns both the Liberty and Knicks, said in a statement Tuesday that Thomas will be responsible for both basketball and business operations of the Women's National Basketball Association club.
Thomas, 54, began discussions with MSG Executive Chairman James Dolan late last year and since has been advising the team, overseeing the hiring of former NBA teammate Bill Laimbeer as coach as well as helping with player-acquisition strategies, Dolan said in a statement.

"We've agreed that it is time for him to take a lead role with the team as president, and through his ownership interest," Dolan said. "He's an excellent judge of talent, and I'm confident that he will put all of his energy and experience into making the Liberty a perennially competitive and successful team."
Thomas's stake in the team wasn't disclosed. Laurel Richie, the WNBA's president, said in a statement that his ownership interest is pending approval by the league's board of governors.

"This process has not yet begun," Richie said.
Thomas's first tenure with MSG included a sexual-harassment lawsuit by a female former team executive against Dolan and the team's then-parent Cablevision Systems Inc. In 2007, a jury awarded $11.6 million to Anucha Browne Sanders, once the Knicks' senior vice president for marketing and business operations. The two sides settled two months later. Terms weren't disclosed.
"We did not believe the allegations then, and we don't believe them now," MSG said in a statement separate from its release, which did not mention the lawsuit. "We feel strongly that the jury improperly and unfairly held Isiah Thomas responsible for sordid allegations that were completely unrelated to him, and for which MSG bore responsibility. In fact, when given the opportunity, the jury did not find Isiah liable for punitive damages, confirming he did not act maliciously or in bad faith. We believe Isiah belongs in basketball, and are grateful that he has committed his considerable talent to help the Liberty succeed."
Thomas was fired in April 2008 after the Knicks equaled a then-franchise record for losses in a season, their seventh straight losing campaign, finishing at 23-59 while putting their second-highest payroll on the floor. In two years with Thomas as coach, the Knicks went 56-108. In four seasons with him controlling the franchise, the team didn't have a winning season and made the playoffs once.
Thomas was a 12-time All-Star point guard with the Detroit Pistons from 1981-94. He was inducted into the sport's Hall of Fame in 2000.
The Liberty, who began play in 1996 as one of eight original members of the WNBA, went 15-19 in 2014. They open their 2015 season June 5 at home against the Atlanta Dream.

"To me, basketball is basketball," Thomas said in a statement. "These women are outstanding athletes who want to compete for a championship in New York. I look forward to this challenge -- not just to win a title, but also to help broaden the team's fanbase."
Before it's here, it's on the Bloomberg Terminal.
LEARN MORE