HSBC Investment Bank Profit Rises as Gulliver Ponders Strategy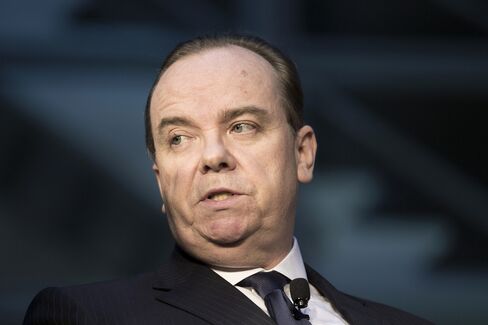 HSBC Holdings Plc's investment bank posted a 6 percent profit gain as volatile markets buoyed currency-trading revenue, a better-than-estimated first quarter for a division some analysts want management to shrink.
Pretax profit in global banking and markets, the division that houses HSBC's trading units, rose to $3.04 billion, the bank said Tuesday. Revenue from foreign exchange, the largest earnings driver in the markets business, climbed to $942 million from $757 million a year earlier, adjusted for currency moves.
The investment bank, run by Samir Assaf, accounts for more than a third of pretax earnings at HSBC, which beat estimates as bad-loan provisions fell. Citigroup Inc. and JPMorgan Chase & Co. analysts last month urged Chief Executive Officer Stuart Gulliver to trim the unit, saying it didn't generate enough return on equity given its share of the bank's assets.
"Nothing is sacred at HSBC as I think Gulliver is determined to revive profitability, by sales, cost cutting and rationalization, in an attempt to pull away from all the other negative 'noise,'" said Chris Wheeler, an analyst at Atlantic Equities in London. "The message will be to examine each business in global banking and markets and ensure it is aligned to commercial banking, the bank's DNA, in serving commercial clients."
Gulliver said on a conference call that HSBC may move some of the investment bank outside the U.K. In HSBC's earnings statement, he said the division had "its usual strong start to the year."
HSBC said increased client flows helped equities revenue climb to $478 million in the quarter from $407 million in the same period a year ago. Its credit business reported a 4 percent gain to $338 million, while the rates business declined 17 percent to $472 million.
'Slight Relief'
The investment bank "was a positive surprise," Ian Gordon, an analyst at Investec Plc in London who has a sell rating on HSBC, said in a note. The bank's quarterly figures "offer slight relief in the context of the challenges that HSBC continues to face."
Gulliver has previously said parts of the division that don't offer sufficient returns may face "extreme solutions." Europe's largest bank cut its target for return on equity, a measure of profitability, to more than 10 percent in February.
He's also mulling whether to move the bank to Hong Kong from London as U.K. tax burdens rise, and has cited Brazil, Mexico, Turkey and the U.S. markets the bank may exit. HSBC will update investors on its strategy on June 9.
HSBC joins European and U.S. firms that have enjoyed buoyant foreign exchange and equities trading in the quarter, even as they face tougher capital requirements at their fixed income divisions.
UBS Group AG said earlier Tuesday that first-quarter pretax profit at its investment bank rose 82 percent, fueled by an increase in trading.
Deutsche Bank AG, which also faces calls to shrink its investment bank to lift returns, boosted revenue 15 percent in the quarter, also led by fixed-income products and equities.
Before it's here, it's on the Bloomberg Terminal.
LEARN MORE