Dividends in Danger as MGM China, Rivals Yield to Macau Slump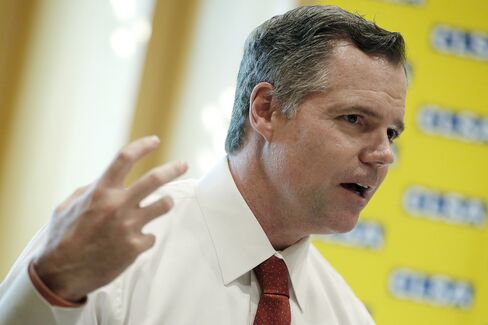 MGM China Holdings Ltd. is reconsidering its special dividends, which totaled $1.4 billion over the past three years, because of the gambling slump in Macau.
While MGM China will continue to distribute semi-annual payments, which have been limited to 35 percent of profit, special dividends paid annually in March are under review, Jim Murren, chairman and chief executive officer of parent MGM Resorts International, said Monday in an interview.
"I don't expect many people to have special dividends at the level we've had in recent years," Murren said.
Investors in Macau casinos enjoyed fat dividends as gambling revenue in the market soared. Now, with betting in the region, the world's largest gambling hub, falling for 11 months, the companies are pulling back. The slump comes as all six of the casino operators build new, multibillion-dollar resorts.
Wynn Resorts Ltd. Chairman Steve Wynn slashed his company's quarterly dividend by two-thirds last week to 50 cents a share. His Wynn Macau Ltd. subsidiary omitted a final dividend at the end of March.
Three U.S. controlled operators, Sands China Ltd., MGM China and Wynn Macau, won't make enough money this year to cover their dividends if they keep their regular and special payouts at current levels, according to Tim Craighead, a Bloomberg Intelligence analyst in Hong Kong.
"If other Macau casino operators hold to Steve Wynn's mantra of not wanting to borrow money to pay dividends, we could see more dividend cuts on top of what's already happened," Craighead said.
MGM China
MGM China paid a special dividend of $400 million this year, down from $500 million in each of the past two years.
While Las Vegas Sands raised its quarterly payout by 30 percent to 65 cents a share in January, the company's Macau division, Sands China, didn't pay a special dividend as it had a year earlier.
On a conference call last month with investors, Las Vegas Sands Chairman and Chief Executive Officer Sheldon Adelson said the parent company was targeting 10 percent growth in its regular dividend over the next three years.
Adelson, who owns almost half of Las Vegas Sands, has a two-word cheer he often says on company conference calls. President Rob Goldstein had to remind him last time.
"Yay, dividends," Adelson said. "I forgot to say that, I think."
Before it's here, it's on the Bloomberg Terminal.
LEARN MORE