Clegg Faces 'Unpalatable Choices' on U.K. Coalition After Vote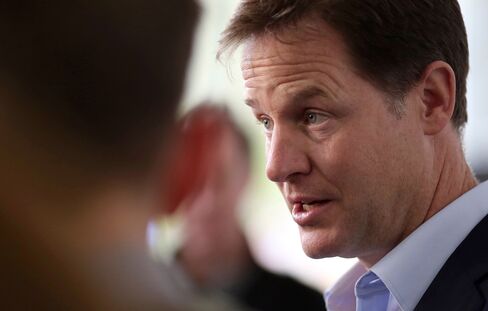 Former Liberal Democrat leader Paddy Ashdown called the 2010 U.K. election result a "deliciously painful torture mechanism," as his party was forced to choose a coalition with the Conservatives over its pro-Labour instincts. The dilemma this time may be worse.
Five years ago, the pain came from a result that meant a deal with the Tories would deliver a large parliamentary majority, while one with Labour and other smaller parties wouldn't. This time, even as Deputy Prime Minister Nick Clegg has appealed for a continued Liberal Democrat role in government, forecasts suggest his party faces a choice between two unappealing minority coalitions.
In the blue corner: a repeat of 2010's tie-up, with a Tory party that Clegg describes as "living in a fantasy world" and that's committed to a referendum on leaving the European Union - - anathema to most Liberal Democrats. In the red corner: an alliance with a Labour Party that has probably come second in the election and is backed by the secessionist Scottish National Party.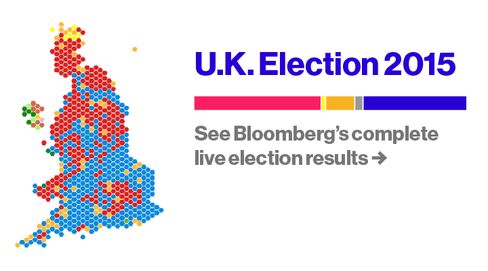 "Last time, they had a choice of one," Andrew Russell, head of politics at Manchester University, said in an interview. "This time, it looks like a series of unpalatable choices."
Seat Projections
The Conservatives are projected to win between 270 and 290 seats and Labour between 260 and 270, according to computer modeling, leaving both short of the 326 lawmakers needed for a majority in the House of Commons.
With the Scottish National Party, which has said it would not support another Cameron administration, predicted to win between 50 and 56 seats, the Liberal Democrats, projected to emerge with between 24 and 32 lawmakers, may be courted by both sides.
Results in that range would give the Liberal Democrats a genuine choice. They wouldn't be able to give either Labour or the Tories a majority, but they might be able to get them close enough to the line to form a government.
Another Tory-Liberal Democrat coalition would need to win support from other parties, such as Northern Ireland's Democratic Unionists. It would also increase the ability of rank-and-file Tory lawmakers with an anti-European Union agenda close to that of the U.K. Independence Party to put pressure on Cameron by threatening to withhold their backing.
A deal with Labour would survive only with SNP support, putting it at the mercy of maneuvers designed to boost support for Scottish independence.
'Right Wing'
"One thing I've learned over the past five years is that when push comes to shove the Conservative government always gives way to their right wing when they cut up rough," Clegg said in an interview during the election campaign. "An unstable left-wing or right-wing alliance would be the surest way to undo the work that's been done over the last half decade."
Adding to the uncertainty is the possibility that Clegg might lose his own district in the northern English city of Sheffield; Few of the Liberal Democrats' 57 lawmakers can be sure of retaining their seats, amid a slump in the party's support since it went into coalition. Part of the success of the government since 2010 has been down to Clegg's ability to both work with the Conservatives and hold his party together.
Any coalition arrangement would need to be agreed on by the party's members of Parliament and its federal executive and to be approved by a special conference of Liberal Democrat members.
Second Election
Clegg has made clear that the party with the most votes and seats should have the first attempt at forming a government, which would means talks with Cameron first, if the projections are accurate. He warned Tuesday of a "second election before Christmas" if Cameron and Labour leader Ed Miliband "put their own political interest ahead of the national interest."
Some party activists would rather do a deal with Labour, but bad blood has built up between the parties since 2010. The biggest cheers at Liberal Democrat conferences go to attacks on Labour, and even Tim Farron, the party's former president, who showered praise on Miliband in 2013, is keeping his distance.
Clegg says he is committed to anchoring any government he joins to the middle ground of British politics, spending less than Labour and taxing the rich more than the Conservatives.
'Right Balance'
"I make no apology for being an unalloyed liberal center-ground politician who thinks the center ground is a good place to be," Clegg said. "That's where you strike the right balance between doing the right thing by the economy but also doing it with social justice and compassion in mind."
Still, being in a coalition with the Conservatives allows Liberal Democrat lawmakers to portray themselves as being champions of fairness, toning down moves to cut welfare benefits, for example. By contrast, in a coalition with Labour, the party might find itself in a position of stopping spending on things it would ordinarily favor in the interests of budget rigor.
Miliband unveiled a slab of stone at the weekend with his election pledges carved into it. Come Friday, Clegg may find himself between that rock and a hard place.
Before it's here, it's on the Bloomberg Terminal.
LEARN MORE