Chinese Stocks Take Their Biggest Fall in Three Months
China's stocks tumbled the most in three months amid concern the government will introduce measures to cool the world's best-performing market as valuations surge and new share sales potentially divert funds from existing equities.
Industrial & Commercial Bank of China Ltd. and PetroChina Co., the nation's biggest companies, slumped at least 3.6 percent. Phone and property shares led declines, with China United Network Communications Ltd. and Poly Real Estate Group Co. slumping at least 7 percent. Everyday Network Co. and Nationz Technologies Inc. paced losses for small companies.
The Shanghai Composite Index dropped 4.1 percent to 4,298.71 at the close, the most since Jan. 19. The 113 percent rally over the past year prompted state media to warn investors about market risks and some brokerages to raise margin-trading requirements. Twenty-five companies are scheduled to sell initial public offering shares from Tuesday through May 11, which may freeze 2.34 trillion yuan ($376 billion).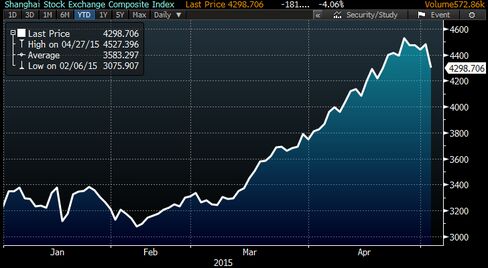 "The market has risen so much that stock prices are deviating from fundamentals and there's speculation that regulators might further introduce measures to control the market," said Shen Zhengyang, an analyst at Northeast Securities Co. "Liquidity is tight given the new share offerings and tightened access for leveraged funds entering the market."
The CSI 300 Index fell 4 percent. Hong Kong's Hang Seng China Enterprises Index retreated 2.6 percent, while the Hang Seng Index slid 1.3 percent. The ChiNext plunged 2.2 percent. The Bloomberg China-US Equity Index added 1.3 percent on Monday.
State Media
The Shanghai Composite's 33 percent rally this year has driven valuations to 16.6 times 12-month projected profit, compared with the five-year average of 10.2, according to data compiled by Bloomberg. Trading volumes were 1.2 percent lower than the 30-day average.
The government and state media have increasingly warned investors about the risks of a reversal as the world's second-biggest economy slows. The official People's Daily said on its website Monday that the bull market doesn't just mean one-way gains and that there will be twists and turns. In this market, many people have bought stocks through margin financing or leverage so a small correction may hurt them, it said.
"The latest warning from People's Daily for investors to watch out for risks may be part of the reasons why China stocks plunged today,'' said Ryan Yen, who manages the Capital Greater China Fund in Taipei.
Taking Profits
Margin traders increased holdings of shares purchased with borrowed money on Monday, with the outstanding balance of margin debt on the Shanghai Stock Exchange rising by 1.4 percent to a record 1.24 trillion yuan.
Stocks also fell amid concern more market-cooling measures may be in the offing. Huatai Securities Co. and Tebon Securities Co. raised requirements for margin trading and short selling to control risks, the Shanghai Securities News reported, without citing anyone. China may increase the stamp tax on stock trading to boost fiscal revenue, the Securities Times reported, citing a research note from Changjiang Securities Co.
China's stocks will be hit by a 20 percent correction, Mark Mobius, who oversees about $40 billion as the executive chairman of Templeton Emerging Markets Group, said on Bloomberg Television in Hong Kong. The upside for shares will be limited as IPOs absorb funds, he said. The China Securities Regulatory Commission said last month it would increase the pace of IPOs.
A sub-index of phone stocks dropped 7.8 percent, the most among the CSI 300's industry groups. It had jumped 39 percent over the past month to make it the best performer. China United Network tumbled 10 percent after surging 60 percent over the past month. ZTE Corp. lost 7.8 percent, closing at the lowest since April 28.
Soccer Stocks
The Shanghai property index slid from a record high, losing 7.4 percent and paring a rally over the past month to 23 percent. Poly Real Estate Group Co. slumped 7 percent.
"Lots of stocks are already at pretty high levels and investors are now getting cautious about possible corrections," said Wei Wei, an analyst at West China Securities Co. in Shanghai.
Chinese oil stocks rallied on speculation of SOE reform, according to Zheshang Securities Co. China Oilfield Services Ltd. surged 6.2 percent. Offshore Oil Engineering Co. gained 3.7 percent.
"Despite earlier denials of mergers, the market still has strong expectations of SOE restructuring in the sector," Zhang Yanbing, an analyst at Zheshang Securities said by phone.
— With assistance by Shidong Zhang, and Amanda Wang
Before it's here, it's on the Bloomberg Terminal.
LEARN MORE