Just 24 hours from the U.K. election, it's still impossible to say whether David Cameron or Ed Miliband will be the country's next prime minister. The abiding question for business leaders and investors is who would be least bad.
In the normal run of events, company executives and shareholders would be four-square behind the incumbent Cameron's Conservative Party, which has presided over a British economic recovery that's outpaced western European rivals and the U.S.
Yet his promise of an "in-out" referendum on Britain's membership of the European Union has given pause even to some of the Conservatives' most natural allies in the business community.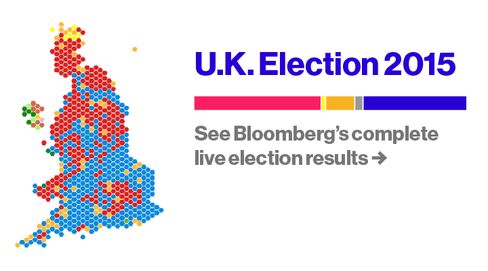 The alternative offered by Miliband, the Labour Party challenger with a fondness for regulating markets and taxing the rich, is hardly more palatable.
"There are few appealing potential outcomes from this election," George Buckley, chief economist for Deutsche Bank AG in the U.K., wrote in a report. "A Labour win would likely see slower deficit reduction and possibly (modestly) higher interest rates, while a Conservative government could rattle financial markets concerned that the promise of an EU referendum may compromise access to the single market."
Martin Sorrell, head of advertising company WPP Plc, describes it as the "Morton's Fork" election, referring to a logical dilemma in which people are faced with two equally bad options.
Coalition Chaos
With the Conservatives and Labour still neck-and-neck before the vote, and minority parties such as the U.K. Independence Party and Scottish National Party making it difficult for either to establish a clear majority, businesses and investors are also bracing for a period of limbo after the result. With polls pointing to a minority government or coalition, days or weeks of horse-trading may be needed before a government can be formed.
Chancellor of the Exchequer George Osborne told Bloomberg Television on Monday that the country faced "economic chaos" should Miliband become prime minister, not least because the Labour leader would probably have to lean on the support of the SNP, which wants to water down U.K. austerity plans.
Sterling Volatile
Currency markets share some of those fears about political instability, with companies such as BlackRock Inc., the world's biggest money manager, and the private-banking unit of Citigroup Inc. cutting their exposure to the pound as volatility surges. Goldman Sachs Group Inc. has warned that sterling is the asset most at risk from a "market-unfriendly" election outcome, while gilt yields could rise if deficit reduction measures are scaled back.
"We've seen some sterling volatility already and I think sterling is a short," George Magnus, a senior economic adviser to UBS Group AG in London, told Bloomberg Television on Tuesday.
By comparison equity markets have remained sanguine -- so far at least -- about the prospect of a Labour-led government, or indeed the longer-term threat of a referendum on EU membership if the Conservatives win. The FTSE All-Share index of listed British companies has risen 6 percent this year.
"Fiscal policy differences (in terms of deficits and debts) between the parties are quite modest," Michael Saunders, chief economist for western Europe at Citigroup, wrote in a report this week.
Business Targeted
That isn't to say a Labour-led administration holds no fears for companies and investors. Miliband's promise to abolish so-called zero-hour contracts, which let employers hire staff with no guarantee of work, would affect retailers such as Sports Direct International Plc. A pledge to freeze household energy prices until 2017 has already contributed to a 13 percent share price decline at Centrica Plc over the past three months.
Labour also proposes increasing the levy on banks' balance sheets, at a time when the U.K.'s biggest bank, HSBC Holdings Plc, is already weighing whether to quit the country because of higher taxes and tougher rules.
Wealthy individuals would take a hit from Miliband too. Labour plans include hiking the top rate of income tax to 50 percent, a second "one-off" levy on bank bonuses, a new "mansion tax" on houses worth more than 2 million pounds and scrapping the so-called "non-domiciled" status that gives tax advantages to people who live in Britain but have ties overseas.
While Goldman Sachs said in a report last month that the current Conservative-led coalition government has "established some credibility" by stabilizing the British economy after taking power in 2010, others counter that its recent election promises are as irresponsible as those from Labour.
"It's difficult to discern major differences in the long-term fiscal impact of the major parties' tax and spending plan," said Charles Hall, head of research at Peel Hunt, adding that it would be "unwise for investors to make firm assumptions based on manifesto promises that are quite likely to be broken."
Before it's here, it's on the Bloomberg Terminal.
LEARN MORE