$3 Billion of Unpaid Bills Fail to Deter India Sugar Farmers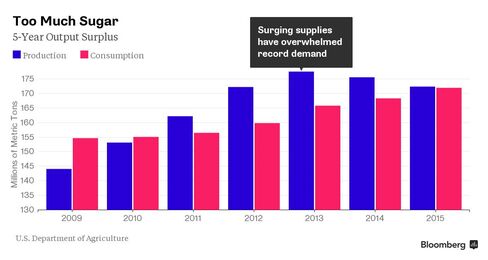 Sugar production in India will probably exceed demand for a sixth year as farmers maintain plantings in spite of the $3.2 billion they're owed by mills.
Output in the 12 months starting Oct. 1 may match the 28 million metric tons estimated for this year, according to the National Federation of Cooperative Sugar Factories Ltd. The crop was planted on 3.9 million hectares (9.6 million acres) as of April 22, almost the same as 4 million hectares a year earlier, government data show.
The largest producer after Brazil is poised for another bumper year as prices set by state governments make sugar one of the most profitable crops for farmers. Mills are racking up debt to the growers as the price they sell to the local market doesn't cover their raw material costs, the Indian Sugar Mills Association says. As the government announces steps to help mills clear their debt, farmers are sticking with the crop.
"Cane is just like a hen that lays golden eggs," said Dhanbir Shastri, a farmer from Rasoolpur village in Uttar Pradesh, the biggest cane-growing state. "There's no alternative to sugar, as the return from rice or potatoes doesn't even cover the cost of production. We are sure that arrears will be cleared with government help."
While Shastri has yet to be paid about 125,000 rupees ($1,966) by a mill for this year's crop, he recently received the money owed to him for the previous harvest. That helped the 61-year-old farmer plant cane on half of his four-acre farm.
Deepening Losses
Bajaj Hindusthan Sugar Ltd., Balrampur Chini Mills Ltd. and Shree Renuka Sugars Ltd. have reported losses for at least three straight quarters as states fix cane rates to help farmers. Mills nationwide owe growers 201 billion rupees, according to official data.
The gap between raw material costs and sugar prices threatens the financial status of mills and will turn India into a producer with a structural surplus, said Tom McNeill, a director at Brisbane, Australia-based Green Pool Commodity Specialists Pty. The government will have to continue to support the industry with tax-payer money, said McNeill, who has studied the commodity for more than two decades and was the head of analysis at Kingsman SA.
"Cane now pays better than any other crop, because the government continues to raise the price every year, ignoring what the market is doing," McNeill said in e-mailed responses to questions from Bloomberg on April 29. "The question many are asking is why not align cane prices with market returns rather than allow the government to set them."
Six-Year Low
Prices in New York have fallen in the past four years, the longest stretch of declines since at least 1962, and touched 11.91 cents a pound on March 31, the lowest since January 2009. Futures were at 12.56 cents on ICE Futures U.S. on Tuesday. Refined sugar prices fell as much as 0.6 percent to 2,409 rupees per 100 kilograms on the National Commodity & Derivatives Exchange in Mumbai, the lowest since April 21.
Global production in the 12 months ending Sept. 30 will exceed demand by 620,000 tons, data from London-based International Sugar Organization show.
Higher cane costs mean sugar prices in India are above global rates, making exports uneconomical even with a government subsidy of 4,000 rupees a ton, according to the mills association. The government has announced interest-free loans and increased import duties to boost prices and help mills clear the debt to farmers.
Government Support
"We hope the government will continue to support farmers and the industry," said M.G. Joshi, managing director of the cooperative federation, which represents mills producing 48 percent of the country's sugar. "The farmers feel secure with cane irrespective of the arrears as the price is assured and it is increasing each year."
Production will climb to as much as 28 million tons in the 12 months ending Sept. 30 this year, the mills association estimates. That would be the highest since a record 28.4 million tons in 2006-2007, the group's data show. The association sees local consumption of 25 million tons in 2015-2016 after 24.8 million tons this year.
Planting will end by mid-May, said Avdhesh Mishra, president of the Cane Committees' Association of Uttar Pradesh. "Every year yield and recovery are increasing, so it doesn't matter even if sowing falls by a few thousand hectares."
Before it's here, it's on the Bloomberg Terminal.
LEARN MORE