Natural Gas Rises to 7-Week High as Warm Weather Stokes Demand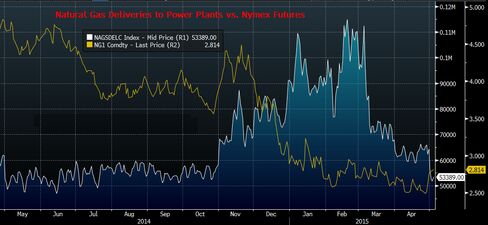 Natural gas futures advanced to the highest price in almost seven weeks in New York as forecasts for unusually warm weather through mid-May signaled increased demand from power generators.
The government's Global Forecast System computer model's midday run reaffirmed earlier projections for a round of "well-above-normal temperatures" in the Midwest and Northeast into early next week, said Jim Southard, meteorologist with Frontier Weather Inc. in Tulsa, Oklahoma. The 11- to 15-day forecast period turned warmer, with the biggest changes in the Midwest to the Great Plains, he said.
Gas deliveries to electricity producers have climbed as companies and homeowners turned on their air conditioners. Shipments rose 1.5 percent Monday from May 1, according to LCI Energy Insight. Gas prices surged last week after a smaller-than-forecast U.S. stockpile gain. Bank of American Corp. sees production dropping in 2016, halting a 10-year streak of increases, as drillers make cuts at oil fields and demand rises.
"The temperatures are starting to warm up in the Midwest so maybe we see a summer this year and the market should firm up," said Phil Flynn, senior market analyst at Price Futures Group in Chicago. "Last week when we saw injection a lot smaller than anticipated, the mood is a little bit better."
Natural gas for June delivery rose 4.5 cents, or 1.6 percent, to $2.821 per million British thermal units on the New York Mercantile Exchange, the highest settlement since March 18. Volume of all futures traded was 37 percent below the 100-day average at 2:36 p.m.
Gas Options
June $2.50 puts were the most active options in electronic trading, slipping 0.8 cent to 1.9 cents on volume of 1,960 contracts at 2:38 p.m.
The high temperature in New York City on May 8 will be 81 degrees Fahrenheit (27 Celsius), 12 above normal, according to AccuWeather Inc.'s website. Chicago's reading will jump to 82 May 16 through May 18.
"We do have a prolonged streak here," though it may not be enough to create sustained air-conditioning demand, said Bob Yawger, director of the futures division at Mizuho Securities USA Inc. in New York.
Gas futures have been locked in a bearish pattern since February, with prices setting lower highs in rallies and then selling off to lower lows, he said.
"You have this battle that's brewing right now between the storage number and fuel switching," Yawger said. Power generators burn less coal when gas prices drop to $2.50 per million Btu or lower, he said.
Stockpile gains in May tend to be the biggest of the year, said Teri Viswanath, director of commodities strategy at BNP Paribas SA in New York. Last May, a record 482 billion cubic feet of gas flowed into storage, and so far forecasts indicate this year may surpass that record, she said.
Stockpile Gains
U.S. inventories totaled 1.71 trillion cubic feet on April 24, 4.2 percent lower than the five-year average, according to the U.S. Energy Information Administration, which is scheduled to release its next weekly report May 7.
Stockpiles probably rose by 70 billion cubic feet in the week ended May 1, Tim Evans, an energy analyst at Citi Futures Perspective in New York, said in a Monday report. The five-year average gain for the period is 68 billion. The following two reports will show triple-digit gains, eliminating the deficit, Evans said.
Shale production, which accounts for all U.S. gas growth, will decline by 23 million cubic feet a day this month from April to 45.97 billion, the EIA said in its April 13 Drilling Productivity Report. The decline is based on lower output from oil-rich deposits such as the Eagle Ford in Texas.
Oil Wells
Lower associated gas production and declining growth from the Northeast because of a 50 percent drop in liquids prices and weak local markets "will likely eliminate the slack in gas balances," Sabine Schels, a London-based commodity strategist for Bank of America, said in a report Monday. The bank estimates that output will fall 1.3 billion cubic feet a day in 2016.
"This rebalancing could set the market up for a meaningful price recovery," boosting Nymex gas futures to an average of $3.90 per million Btu in 2016 from a projected $2.85 this year, Schels said.
Before it's here, it's on the Bloomberg Terminal.
LEARN MORE