Two Ex-Christie Allies Plead Not Guilty in Bridge Lane Case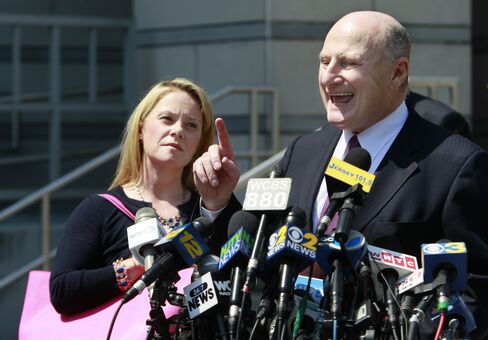 Two former allies of New Jersey Governor Chris Christie pleaded not guilty to charges that they plotted traffic jams near the George Washington Bridge to punish a local mayor for not backing his re-election in 2013.
Bridget Anne Kelly, Christie's ex-deputy chief of staff, and Bill Baroni, the former Port Authority deputy executive director, entered their pleas Monday in federal court in Newark, New Jersey. Another former Port Authority official, David Wildstein, pleaded guilty May 1 and helped prosecutors build a case against Kelly and Baroni.
The scandal has hurt Christie, a Republican, weighing a run for the White House in 2016. Most New Jersey adults don't believe his claims that he had no knowledge of the plot, according to a Monmouth University poll released Monday. More than two-in-three respondents said Christie hasn't been completely honest about what he knew. Half think he was personally involved, according to the poll.
Kelly's lawyer, Michael Critchley, said after court that the trial, now tentatively set for July 7, is likely to delve into the operations of the governor's office. He refused to rule out the possibility that he'd call Christie as a witness.
"If the government does not call many of the people who were Bridget Kelly's former colleagues, you can rest assured that we will be subpoenaing them," Critchley told reporters outside the courthouse. "We want a full airing of the facts involving everyone that was involved."
'My Job'
Kelly, 42, and Baroni, 43, didn't speak at the brief hearing on Monday and entered not guilty pleas through their lawyers. U.S. District Judge Susan Wigenton released the pair on $150,000 bond each.
"I would never risk my career, my job, my reputation for something like this," Baroni, a former Republican state senator, said outside of court. "I am an innocent man."
In his guilty plea May 1, Wildstein admitted the trio plotted to close two local access lanes during the first week of school in September 2013 to maximize gridlock in Fort Lee, where Mayor Mark Sokolich, a Democrat, didn't endorse Christie, a Republican. The three then concocted a cover story to say the lane closures were part of a traffic study, prosecutors said.
Wildstein admitted directing the lane closings without notice to anyone in Fort Lee. The move made people late for work and school, delayed emergency responders and left Sokolich baffled and infuriated. When he asked for an explanation, the mayor was met with "radio silence," Wildstein said.
Available Evidence
U.S. Attorney Paul Fishman said May 1, when the indictment was unsealed, that he didn't intend to bring additional charges over the lane closures, "based on the evidence available to us today."
The traffic snarls ended only when Patrick Foye, executive director of the Port Authority of New York & New Jersey and an appointee of New York Governor Andrew Cuomo, a Democrat, ordered them reopened on the fifth day.
Kelly and Baroni are charged with conspiring to misuse property of an organization receiving federal benefits, misapplying property of such an organization, conspiracy to commit wire fraud, conspiracy to deprive Fort Lee residents of their civil rights, deprivation of civil rights and wire fraud.
Baroni has said he believed that the traffic study was legitimate, and lawyers for the Baroni and Kelly called Wildstein a liar. Outside of court, Critchley said Wildstein was a "flawed narrator" and that Kelly has been unfairly maligned for 16 months.
'Insensitive' E-mails
"The thought that I was the only person in the governor's office aware of the George Washington Bridge lane closings is ludicrous," Kelly said at a May 1 news conference.
Kelly, who set up a website for her legal defense, said she's embarrassed by the "insensitive tone" of some of her e-mails.
The plot came to light with the publication of an e-mail sent by Kelly a month before the closures.
"Time for some traffic problems in Fort Lee," she wrote on Aug. 13, 2013. "Got it," replied Wildstein, then the interstate capital projects director at the Port Authority.
Christie appointed an outside law firm, Gibson Dunn & Crutcher LLP, to investigate the lane closures. The firm's report exonerated the governor and laid blame on Kelly and Wildstein.
In court, Critchley said he wants to know if the firm recorded its interviews. If so, prosecutors should turn them over in the pretrial exchange of evidence, he said. Assistant U.S. Attorney Lee M. Cortes Jr. said the government will comply with its legal obligations.
The cases are U.S. v. Baroni, 15-cr-00193, and U.S. v. Wildstein, 15-cr-00209, U.S. District Court, District of New Jersey (Newark).
Before it's here, it's on the Bloomberg Terminal.
LEARN MORE