There's Nothing Small About Valuations on These H.K. Stocks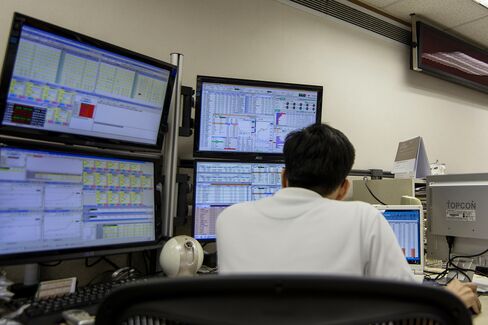 Hong Kong's small-cap rally is showing no sign of letting a little thing like valuations get in its way.
After a 28 percent surge in April, the Hang Seng Composite Small Cap Index traded Monday at 27 times trailing earnings, the highest since Bloomberg began compiling the data in 2010 and more than double the multiple for bigger equities. With stocks from China Merchants Land Ltd. to Coolpad Group more than doubling in the span, volatility on the measure soared to the highest in more than three years.
As mainland Chinese investors pump cash into the city, their preference for small caps is becoming more pronounced. Confidence that China's government will keep the rally going with stimulus is everywhere, said Convoy Asset Management Ltd.
"Liquidity is going into the market, and small caps are going to keep surging," said Cedric Ma, a Hong Kong-based senior investment strategist at Convoy, which oversees about $464 million. "What we're seeing is gains not due to the fundamentals or the earnings aspect, but more on the macro environment."
The Hong Kong small-cap gauge surged 33 percent through Monday from March 27, when the market began to rally after the Chinese regulator made it easier for some mainland fund managers to buy equities listed in the city. That's more than twice the advance by the Hang Seng Composite Large Cap Index.
While mainland investors don't have direct access to small caps through the Hong Kong-Shanghai stock link, they are buying them through a separate quota program, Hu Xiaohui, chief strategist at SWS Research Co., said last month.
Economic Outlook
The gains come even as China's economy slows, with March data including industrial production, exports and retail sales missing analyst estimates. A factory gauge for April published Monday showed the lowest reading in a year. The nation's central bank cut the amount of cash lenders must set aside as reserves by the most since 2008 last month, following two reductions in its benchmark lending rate since November.
Policy makers are recognizing that the slowdown is becoming a risk, and there's lots of room to cut interest rates further, according to Stephen Ma, senior portfolio manager at LGM Investments Ltd., whose parent oversees more than $279 billion. Still, it's odd for the smallest stocks to be rallying while the economic outlook is so gloomy, he said.
"Usually people buy small caps when the macro economy is doing well," Ma said. "This time around you can say it's the Eastern version of Western QE."
Relative Value
While Hong Kong's small stocks are expensive relative to their own history and to the city's largest companies, they're cheaper than U.S. and Chinese counterparts. The Russell 2000 Index traded at 46 times trailing profits on Friday, while the ChiNext index of small-cap shares in Shanghai and Shenzhen was priced last week at a multiple of 98.
"This rally we saw in the small caps certainly is justified," said Raymond Chan, chief investment officer for Asia-Pacific equities at Allianz Global Investors, which manages about $461 billion. "In Shenzhen market, the valuation there is crazy and a little bit too high -- even some of the global small caps are trading at high multiples."
Kenny Tang, chief executive officer of Jun Yang Securities Co., says there's a reason for the small cap rally on both sides of the mainland-Hong Kong border: those companies are the biggest beneficiaries of all the cash sloshing around China's financial system, getting easier access to credit.
China's central bank last month reduced reserve requirements by a further 0.5 percentage point for banks with loans to small enterprises, in addition to the 1 percentage point cut for all lenders.
Too Fast
The steepness of the small-cap ascent concerns Grace Tam, a global market strategist at JPMorgan Asset Management. The stocks are overpriced and too risky, she says.
"This could be really dangerous because when things turn around it could shoot down," she said.
The small-cap gauge slid 2.9 percent at the close in Hong Kong Tuesday, while the benchmark Hang Seng Index retreated 1.3 percent. The Shanghai Composite Index sank 4.1 percent.
It wasn't just Hong Kong's small companies that rallied in April. The Hang Seng Index soared 13 percent, its biggest monthly gain in almost six years. Hong Kong Exchanges & Clearing Ltd. climbed 56 percent. Average daily turnover on the mainboard tripled from the same period a year earlier.
Investors who had targeted the most obvious beneficiaries of the stock-trading frenzy are now looking elsewhere, including small caps, said Alex Wong, a Hong Kong-based asset-management director at Ample Capital, which oversees about $129 million.
"We are seeing the index losing momentum, so that means people are not willing to push big caps higher," Wong said. "People are diversifying in small caps to get return."
Before it's here, it's on the Bloomberg Terminal.
LEARN MORE