McDonald's promised the world a grand turnaround plan, and the 23-minute video presentation released Monday morning begins with such promise. The new chief executive, Steve Easterbrook, was humble: "No business or brand has a divine right to succeed," he said. "The reality is our recent performance has been poor. The numbers don't lie." He was also optimistic, promising to get rid of "legacy attitudes" and bureaucracy to make "liberating moves."
But then Easterbrook described the actual plan. It was underwhelming. He talked about McDonald's operations and finances, not its food, while implicitly acknowledging that the burger giant reached its U.S. peak several years ago. Like many once-great American brands, the fast-food chain now has greater prospects overseas.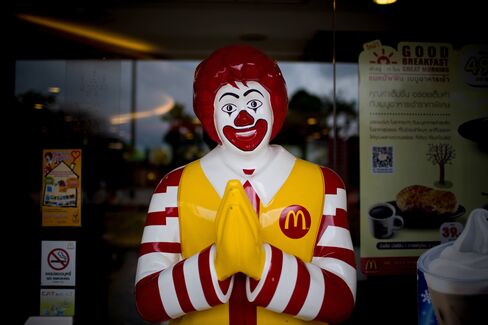 Easterbrook outlined a new structure for the company, with countries grouped by their potential for growth instead of their geographic location. In this new organization, the U.S. stands alone. The "high-growth markets" include China, Italy, Poland, Russia, South Korea, Spain, Switzerland, and the Netherlands. Just try to find any common traits other than the fact they have fewer McDonald's than some of their neighbors.
The hope is that these growth countries can share ideas more quickly and at the same time customize menus to local tastes. How will that work with McDonald's supply chain? The company's industrial efficiency is both a strength and a problem. It allows 34,000 restaurants to serve the same French fries—and the system also requires those fries to be made with more than a dozen ingredients. Easterbrook didn't address the issue.
He also announced that McDonald's would sell some of the restaurants it operates to franchisees. Eighty-one percent of McDonald's restaurants around the world are owned by franchisees now, and the company wants 90 percent to be so by the end of 2018. That shift entails losing some control while cutting corporate costs and getting a more stable, predictable cash flow. Franchisees pay their fees to McDonald's no matter how poor their own sales are. It's like paying the rent—except franchisees also have to invest their own money on new programs or procedures. The most recent one, Create Your Taste, costs about $100,000 for each restaurant, an amount many franchisees consider excessive. Now McDonald's will depend even more on franchisees' cooperation.
The impression Easterbrook left is that McDonald's hopes to keep shareholders happy by reducing expenses (around $300 million a year) and giving them back cash ($8 billion to $9 billion this year.) During a call with investors later in the morning, Pete Benson, the company's chief administrative officer, felt it necessary to insist: "We're not abandoning growth."
As for customers, most will just have to wait. "Tastes are changing, and we have to move with those," Easterbrook said during the conference call. The company has promised to curb antibiotic use in the chicken it serves, and it's testing sirloin burgers. But all the big ideas from McDonald's were about the "system." People wanted a new menu. Instead we got word of a new organizational chart.
Watch Next: Four Reasons McDonald's Needs a Turnaround:
Before it's here, it's on the Bloomberg Terminal.
LEARN MORE