These Chinese Stocks Are Trouncing the Market on Soccer Stimulus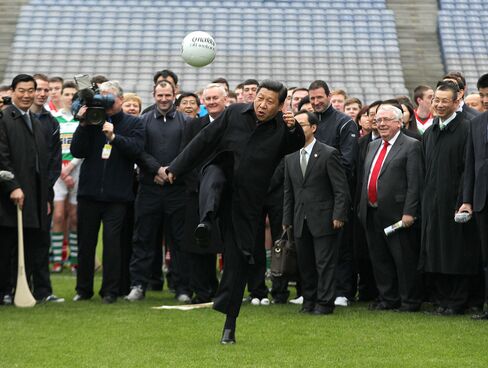 Xi Jinping's plan to make China a soccer superpower is winning over fans in an unlikely place: the nation's $7.7 trillion stock market.
Nine listed companies with ties to the country's soccer league have surged an average 158 percent since the Chinese president first signaled plans in March 2014 to revive a sport plagued by match-fixing and an 82 ranking in FIFA's international league. The gains, which outpaced the benchmark index by 42 percentage points, have accelerated in the past two months as Xi outlined a 50-point road map for soccer reform and put a member of the ruling Politburo in charge of the effort.
For Xi, who showed off his soccer skills to photographers during a 2012 state visit to Ireland, the campaign is part of a wider push to both curb corruption in the world's second-largest economy and project Chinese power on the international stage. Ledman Optoelectronic Co., a partner of China's top soccer league, and Leshi Internet Information & Technology (Beijing) Co., which broadcasts league games through the Internet, are among Minsheng Securities Co.'s top picks for investors who want to bet on a turnaround for the sport.
"To invest in China, you need to follow policies," said Tao Ye, a sports-industry analyst at Minsheng Securities in Beijing. "Soccer reform is getting a big push from the top and that's why relevant stocks have gained so much."
World Cup
In a country with the world's largest population, an expanding role in international financial markets and growing military clout, the inability to produce a world-class soccer system has been a sore point for a domestic fan base estimated at 600 million by local media.
China has qualified for the World Cup only once in its history, compared with five times for Japan and nine for South Korea. The national men's team is ranked lower than Haiti and Mali in FIFA's latest scorecard of 209 nations and regions. The 11-year-old Chinese Super League has been marred by sub-standard play, match-fixing and bribery scandals.
With soccer reform, Xi is mixing his personal affection for the game with a zeal for fighting corruption that has ensnared more than 100,000 Communist Party cadres.
As state leader, he has visited soccer stadiums on overseas trips, met with star athletes and toured Chinese youth soccer training camps.
Politburo Leader
The national government has pledged more funding for the national team, two new training camps and the establishment of 50,000 soccer schools by 2025. Authorities are also considering a regulated betting system for super league games and new ways to improve the compensation system for players.
Last month, Xi put Liu Yandong in charge of a group to oversee the reforms, the first time a Politburo member has been entrusted with developing a sport.
The president's interest in soccer has "a direct link" to the release of the reform plan, said Ren Hai, a professor of sports culture at Beijing Sport University.
"It's much faster than expected," said Ren, who's also chief researcher at the China Institute of Sport Science under the General Administration of Sport. "It only took Xi less than three years to roll out a comprehensive reform plan."
There are already signs of change. Local clubs have gotten bolder in their spending plans, signing top foreign players such as Brazil national team striker Diego Tardelli. This year, the national team delivered its best Asian Cup performance in a decade, advancing to the knock-out stage after defeating all the three group rivals.
Stock Rally
Stock investors are betting on more good news to come. Ledman Optoelectronic, which has the right to use the super league logo as its sole supplier of light-emitting diodes, has jumped 336 percent over the past 12 months on the ChiNext board of smaller companies. Its per-share earnings may double this year, according to the average estimate of five analyst estimates compiled by Bloomberg.
Leshi Internet has surged 147 percent, while Jiangsu Sainty Corp Ltd., whose parent owns a super-league club, has climbed 128 percent. Shanghai International Port, whose soccer club now tops the league table, has advanced 60 percent. Calls to the board secretaries of the four companies went unanswered.
Ledman Optoelectronic trades at 117.9 times estimated profit, more than four times the multiple for Sanan Optoelectronics Co., China's biggest listed LED company by market value, according to data compiled by Bloomberg. Leshi Internet is valued at 192.9 times earnings.
The rally in soccer-related stocks may not be sustainable because valuations have surged and it's too early to judge if the reforms will be successful, according to Yu Jun, a strategist at Bosera Asset Management Co. in Shenzhen.
'Real Profits'
"It's difficult to tell at the initial stage whether it's a good investment," Yu said in a phone interview on April 2. "There are lots of optimistic expectations and huge room for imagination."
The Shanghai Composite Index fell 4.1 percent to 4,298.71 at the close Tuesday amid valuation concerns and speculation the government will introduce measures to cool the market.
While Chinese stock traders are known for chasing investment themes that don't always pan out, GF Securities Co. says an improvement in the nation's soccer system will have a tangible impact on some businesses.
"Ledman Optoelectronic may benefit from the reforms," said Li Yinlin, an analyst covering the sports industry at GF Securities, the nation's sixth-largest brokerage, in Guangzhou. "That's not purely speculation. Soccer will bring real profits."
Earnings for China's super league may double to about 800 million yuan ($129 million) this year, as the government makes competition more market oriented by cutting red tape and reducing intervention, according to Minsheng Securities.
"The potential for the industry is big enough -- even bigger than those western countries -- because of China's large population base," Zhang Tao, an analyst covering culture and sports industries at Shanghai Securities Co., said by phone. "The investment theme has already gained recognition."