Sweden Says New Bank Tax Could Raise About $500 Million Annually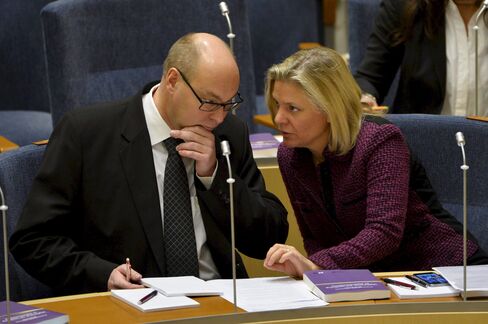 Sweden's latest proposal to impose a new levy on its bank industry may bring in almost $500 million in annual revenue.
The plan, unveiled by Finance Minister Magdalena Andersson in a May 1 speech, would tax "financial activity," replacing a July proposal that risked colliding with European Union competition rules. As was the case with the first proposal, the government targets about 4 billion kronor ($478 million) in revenue each year, Anna Soederstroem, a spokeswoman for Financial Markets Minister Per Bolund, said by phone on Monday.
The planned levy marks the Social Democrat-led coalition's latest attempt to target banks as a source of funding to pay for additional welfare spending. The earlier proposal had been due to take effect in January 2016. Talks on the latest plan will start this week, Andersson said.
"If you look at the Swedish financial sector it is today under-taxed," Andersson said on May 1. "They are not paying any VAT and when we look in the newspapers we're seeing that the four largest banks are making big money."
Bolund said the government could decide to target more than 4 billion kronor in annual revenue from the tax, should an evaluation find "good arguments for that." It's too early to say when the new levy might be introduced, Bolund said in an interview in Stockholm on Monday.
Andersson, whose minority government took over last year, has pledged to cut unemployment to the lowest in the EU over the next five years. But she's running up against budget limits, with deficits forecast through 2017.
Biggest Banks
Sweden's biggest banks -- Nordea Bank AB, SEB AB, Svenska Handelsbanken AB and Swedbank AB -- now face additional taxes as "the Social Democrats want to make sure that the responsibility for financing both welfare and investments are distributed as fairly as possible," Andersson said.
In the proposed bank tax, the government will seek to raise additional income either by increasing banks' payroll taxes or by taxing their revenue, Soederstroem said.
The industry itself said its contribution to government coffers was already considerable.
"The banking sector has always been a good tax payer and we also finance both the stability fund and the deposit guarantee," Claes Warren, a spokesman for Swedbank, said in an e-mailed response to questions on Monday. While regulations introduced in Sweden so far have made the country's banks "resilient," there "are quite a lot of charges on a bank in Sweden today," Warren said.
Before it's here, it's on the Bloomberg Terminal.
LEARN MORE