Sweden's New Bank Tax Seen Targeting Revenue as Review Starts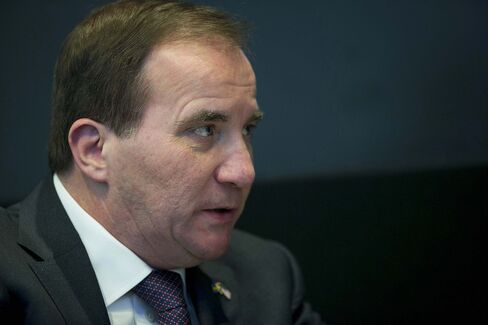 Banks in Sweden face a new tax that will probably target their revenue as the government looks for ways to generate funds to pay for more welfare.
While the Finance Ministry has yet to provide details on its proposed "financial activity" levy unveiled on May 1, Keefe Bruyette & Woods Ltd. says taxing revenue is the most likely scenario. The other option, taxing payrolls, would collide with the government's goal of reducing unemployment, according to the London-based investment bank.
"A financial activity tax would most likely be on revenues rather than a payroll tax as the latter would make it more expensive to employ individuals and give the banks an even greater incentive to cut staff," Karl Morris, an analyst at KBW, said in an e-mailed comment.
Sweden plans to raise an annual 4 billion kronor ($478 million) -- and potentially more -- by imposing the levy. The government will now start a review of the proposal and its options, with no date yet set for its implementation. The proposal replaces a plan that was abandoned on concern it would breach European Union competition rules.
Most of Sweden's banks have hesitated to comment on the levy as details are still thin. Nordea Bank AB, Svenska Handelsbanken AB, SEB AB and the Swedish Bankers' Association in Stockholm all declined to respond.
Customer Pays?
Swedbank AB, Sweden's biggest mortgage lender, said the industry already contributes a considerable amount to government finances.
"The banking sector has always been a good tax payer and we also finance both the stability fund and the deposit guarantee," Claes Warren, a spokesman at Swedbank, said on Monday. Though rules introduced to date have made banks "resilient," there already "are quite a lot of charges on a bank in Sweden today," he said.
The Social Democrat-led government of Prime Minister Stefan Loefven is looking for ways to fund welfare pledges. He's also promised to cut unemployment in Sweden to make it the lowest in the EU by 2020. Finance Minister Magdalena Andersson has singled out the bank industry as being "under-taxed" at a time when they "are making big money."
But raising bank taxes ultimately means clients risk footing the bill, according to Morris at KBW.
Job Cuts?
Banks will "without a doubt" look to offset the new tax by feeding the cost through to customers "if return-on-equity targets came under threat," he said. Corporates "with the deepest pockets would be first in line," the analyst said.
According to Nick Anderson, an analyst at Berenberg Bank in London, a tax on bank revenue could also hurt employment because the "net effect is to reduce bank profitability and one way to offset that is to cut costs."
Banks "will look to protect returns" and are therefore likely to "look to both raising prices and/or cutting costs to do so," Anderson said in an e-mailed reply to questions on Tuesday.
A review of the proposed tax won't be concluded until 2016, meaning it's unlikely to come into force before 2017, Morris said. By then, interest rates will "hopefully" have normalized, and "banks will be able to absorb the additional tax cost comfortably," he said.
But in the meantime, "Swedish banks seem to remain under fire from low rates, risk-weighted-asset harmonization, new tax," Morris said.
Before it's here, it's on the Bloomberg Terminal.
LEARN MORE