Oil-Rich Alberta Faces Policy Limbo as Polls Signal Minority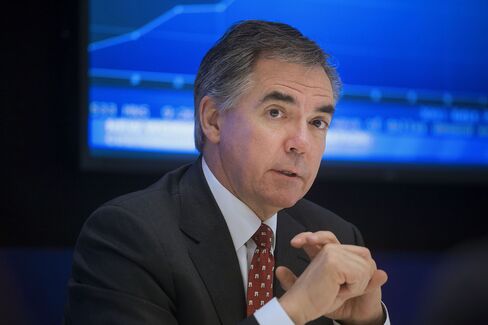 Polls in oil-rich Alberta are predicting the Progressive Conservatives will lose their majority mandate for the first time in almost four decades, and the vote may leave instability and constitutional wrangling in its wake.
Premier Jim Prentice's PCs are projected to finish with fewer seats than their two main rivals in elections Tuesday, the polls show. However because Canadian rules on minority parliaments are more art than science, Prentice could remain premier, at least for a short time.
That would leave Canada's oil-producing province, the hub of the oil sands, in policy limbo amid reduced crude prices, slumping economic forecasts and political strife between parties fundamentally at odds over corporate tax rates, energy-royalty regimes and deficit spending.
The rules say when a minority government is elected, the party with the most seats doesn't necessarily get the first shot at forming government. Instead, the incumbent does. Even if his party finishes second or third on Tuesday, Prentice could still legally seek to remain premier briefly to woo support before facing a confidence vote in the legislature, where he'd need another party to prop him up.
"He's entitled to meet the legislature. He doesn't have to resign," if he doesn't finish with the most seats, says Ned Franks, a professor emeritus of political studies at Queen's University in Kingston, Ontario. "But normally, if it is clear the government lost the election, it will resign not too long after the election."
Political Differences
Prentice's most potent threat is the New Democrats and their leader Rachel Notley, who would hike corporate taxes, consider raising energy royalties and oppose Prentice's service cuts. Prentice's challengers on the right are the Wildrose Party, which opposes tax hikes the premier introduced in his March budget to counter collapsing oil revenue.
Polling aggregator threehundredeight.com shows the NDP has 43 percent of the popular vote, followed by Wildrose at 26 percent and the PCs at 24 percent, as of Monday's projections. The NDP has never won power in Alberta, and the province has never returned a minority government.
A poll published Sunday by Forum Research predicted the pro-labor NDP would win 69 of 87 seats in the legislature, a commanding majority, cutting down Prentice's PCs and steering the province to the left. Other polls, while showing the NDP in the lead, say the tightness of the race and regional breakdown of voter support make it difficult to predict whether the party would win a majority.
44 Seats
If one party wins a majority of at least 44 seats, the result would be clear. If Prentice's party finishes with the most seats, though without a majority, he'd also likely remain premier, although he'd need the support of other lawmakers.
However, if there's no majority, and the PCs finish behind the NDP, he could remain premier in the interim and try to win support before summoning lawmakers back for a fateful confidence vote.
"There's still a constitutionally valid case to be made that if you're the government, and it's uncertain, you can still face the house to give it a try," said Gerald Baier, an associate professor of political science at the University of British Columbia. "It really is then up to someone like Prentice as to whether he wants to push the boundaries of those rules."
Core Issues
If a standoff emerges, it will be up to a largely ceremonial figure, Lieutenant Governor Donald Ethell, the Queen's representative in Alberta, to mediate between the parties. Ethell would first ask Prentice if he can secure a majority. If Prentice drags his heels, Ethell could be forced to intervene, particularly if the other parties signal they would work together.
"These are contestable areas," Franks said.
Wildrose and the NDP are deeply critical of Prentice, and have sought to end the 44-year governing streak of his PC party. However, Wildrose and the New Democrats are divided on core issues such as corporate tax rates, personal taxes, spending and energy-royalty regimes.
The most logical option for Prentice would be soliciting the support of Wildrose, a fellow right-wing party. Many of its lawmakers already crossed the floor late last year to join his party before the election, and Prentice has spent much of the campaign taking aim at the NDP.
'Tremendous Pressure'
"The Alberta Business community will put tremendous pressure on Prentice to hold on to power and to make a deal with Wildrose fiscal conservatives," said Michael Behiels, a political scientist at the University of Ottawa. "Corporate Alberta and corporate Canada want to avoid an NDP government at any cost."
Whether Wildrose would prop Prentice up, given the chance, is unclear - the party grew largely as a protest to the PC party, and Wildrose would stand to benefit from Prentice stumbling.
Any delays by Prentice making a decision would stoke unrest. "They would just foster the conditions for a guarantee that they would lose, perhaps even a bit of a constitutional crisis," Baier said. "I wouldn't think there'd be much patience for him dragging it out."
Polls close Tuesday at 8 p.m. Calgary time.
Before it's here, it's on the Bloomberg Terminal.
LEARN MORE