Notre Dame Top Seed in Quest for First Men's Lacrosse Title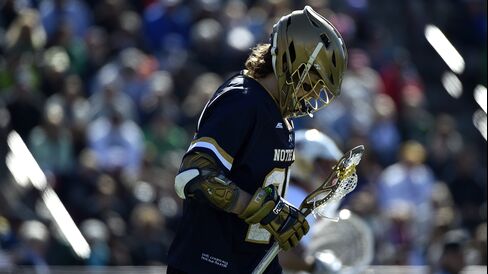 The University of Notre Dame is the top seed in this year's men's college lacrosse tournament as it seeks to win a first national title.
The other top seeds in the 18-team tournament are North Carolina (four titles), Syracuse (10 titles), and Denver. Defending champion Duke (three titles) is seeded No. 5 in Denver's part of the draw.
One of the most successful programs never to have won a National Collegiate Athletic Association championship, Notre Dame has finished runner-up twice, including last year. The Fighting Irish have made 10 straight NCAA tournament appearances, and join Duke as the only schools to play in each of the past five quarterfinals.
There are two play-in games Wednesday, followed by Round of 16 action this weekend. The semifinals and finals will be held May 23 and 25 in Philadelphia's Lincoln Financial Field, home of the National Football League's Eagles.
Nine schools have won every men's lacrosse title since the tournament began in 1971. Those teams, seven of which are in this year's field, account for 81 of the 87 finals appearances. Syracuse's 1990 title was vacated due to secondary rules violations.
Notre Dame has lost twice this year, in overtime at Denver and in the Atlantic Coast Conference semifinals against Duke. The Fighting Irish beat five tournament teams and posted the second shutout in program history, a 9-0 win over Ohio State.
All five ACC teams are in the tournament. The Big Ten, in its inaugural year of sponsoring the sport, also placed three teams in the tournament.
Ivy League tournament champion Yale will open against sixth-seeded Maryland. The conference also received at-large bids for Brown and Cornell.
Bryant faces Marist in the first play-in game at 7 p.m. Eastern on May 6. High Point plays Towson in the second, at 7:30.
(A previous version of this story corrected the next-to-last paragraph to show that Yale was the Ivy League tournament champion.)
Before it's here, it's on the Bloomberg Terminal.
LEARN MORE