No Stopping World's Best Bond Rally as Russia Set to Cut Rates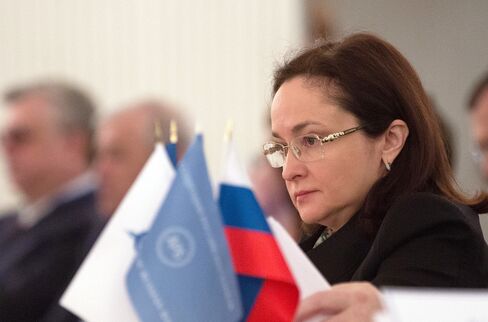 Russia's most accurate interest-rate forecasters say this year's best bond rally isn't over yet.
Renaissance Capital predicts yields on local-currency notes known as OFZs will fall 2 percentage points by year-end as the central bank cuts its benchmark one-week auction rate by 100 basis points at the next policy meeting on June 15. AO Raiffeisenbank's economist Maria Pomelnikova projects a similar level of easing as slowing inflation gives Russia more scope to bolster an economy in the throes of a recession.
"In the medium-term, OFZs remain very appealing," Dmitry Dudkin, the head of fixed-income research at UralSib Capital said by e-mail Thursday. "The prospect of further rate cuts remains. We can reach the 10 percent range in terms of longer OFZ yields."
Analysts at all three companies correctly forecast Thursday's 1.5 percentage-point rate reduction to 12.5 percent as central bank Governor Elvira Nabiullina unwinds last year's emergency increase amid efforts to damp this year's biggest currency rally. The exchange rate surged the most since at least 1993 last month, threatening to undermine Russia's oil-export earnings in rubles.
The scale of last week's drop in borrowing costs -- which surprised all but 10 of 40 analysts surveyed by Bloomberg -- prompted Goldman Sachs Group Inc., Morgan Stanley and Capital Economics Ltd. to say rate cuts will unfold more quickly than they predicted earlier.
Bigger Cuts
Goldman Sachs said Nabiullina will probably repeat the 150 basis-point cut at its next meeting, increasing its projection by half a point. Morgan Stanley and Capital Economics said borrowing costs will drop to 9 percent by year-end, down from previous estimates of 10 percent and 12 percent, respectively.
The more-aggressive projections helped send yields on five-year government notes down 37 basis points on Thursday to 11.01 percent, the biggest drop in three weeks. The rate, which started the year at 15.41 percent, slid 1.45 percentage points in April. The ruble gained 0.5 percent to 51.45 versus the dollar as of 1:15 p.m. in Moscow.
Yet following a rally that handed investors in Russian local debt 19 percent in 2015, the scope for further momentum in the bond market is limited, according to Dmitriy Turmyshev, deputy director at Gazprombank Asset Management in Moscow.
Losing Steam
He expects Nabiullina to lower rates by as little as 50 basis points in June as she keeps a close eye on inflation. Headline price growth slowed to about 16.5 percent in April from a 13-year high of 16.9 percent a month earlier, according to initial estimates last week. That's still more than 10 percentage points above the central bank's medium-term target.
Royal Bank of Scotland Plc's chief Russia economist, Tatiana Orlova, suggested in a note on Thursday that policy makers may opt for a smaller cut in June, or even pause the easing cycle if oil prices fall after the next OPEC meeting scheduled for June 5.
"The market reaction is most likely going to be neutral in the near future because OFZ yields already factored in this level of cuts," Turmyshev said by e-mail on Thursday.
The latest rate cut brought this year's total reductions to 450 basis points, still 200 basis points short of unwinding the emergency increase taken in December to shore up the then-tumbling currency.
Economic Downturn
As a shift toward peace in eastern Ukraine combined with a revival in oil prices from six-year lows, the ruble rallied 18 percent against the dollar in 2015, giving Nabiullina space to lower borrowing costs to stimulate economic growth. Gross domestic product contracted 2.2 percent in the first quarter.
Declining wages and the drop in retail lending will weigh on consumer activity, the central bank said in its policy statement on Thursday. Benchmark borrowing costs will probably drop to 10.20 percent by year-end, forecasts compiled by Bloomberg show.
Assuming no surprises in the oil market, Russian bonds "will continue to rise from here," according to Ivan Guminov, a money manager at Ronin Trust in Moscow. "We'll continue to price further rate cuts."
Before it's here, it's on the Bloomberg Terminal.
LEARN MORE