Modi's Weibo Debut Prompts Jeers Ahead of First China Visit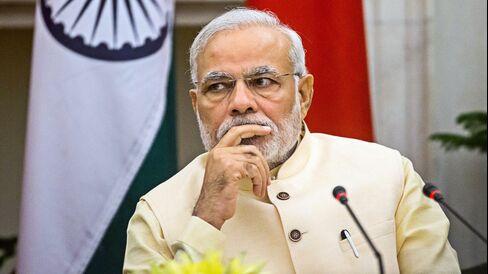 Narendra Modi, the third-most followed world leader on Twitter, joined Chinese microblog Weibo to a chorus of jeers before his first trip to the nation as India's prime minister.
"Hello China," Modi wrote in Chinese in his first post. "Looking forward to interacting with Chinese friends through Weibo."
While that greeting drew more than 8,000 likes, the most popular retort with nearly 2,000 likes was a demand for India to drop territorial claims disputed by China and its close ally Pakistan.
"The southern part of Tibet belongs to China, and Kashmir belongs to Pakistan," wrote a Weibo user. "Mr. PM please return the lands of other countries first before we start talking about how to get along well."
While the world's two most populous countries have been locked in a dispute over their borders since China occupied Tibet in 1951, friction has arisen in recent years as China seeks to broaden its sphere of influence in the Indian Ocean region. The two neighbors fought a war in 1962.
Yet Modi and Chinese President Xi Jinping have tried to set those aside to boost trade. In September, they announced a five-year plan for China to invest $20 billion to help reduce India's largest trade deficit with any single country.
Modi is expected to travel to China on a three-day visit starting May 14, the Indian Express reported on Saturday citing unidentified government sources. Calls to the prime minister's office weren't answered on Monday, a public holiday in India.
Modi had announced his victory on Twitter after he swept to power last May. Since then, he and many top officials in his government have regularly used social media to reach out to foreign leaders, communicate with the public, and sometimes even announce key policy decisions.
Modi, with more than 12 million followers on Twitter, trails only U.S. President Barack Obama and the Pope among world leaders, according to the Twiplomacy Study 2015, an annual report published by public relations firm Burson Marsteller.
Before it's here, it's on the Bloomberg Terminal.
LEARN MORE