Merkel Allies Pin Hopes on Miliband Win to Kill EU Referendum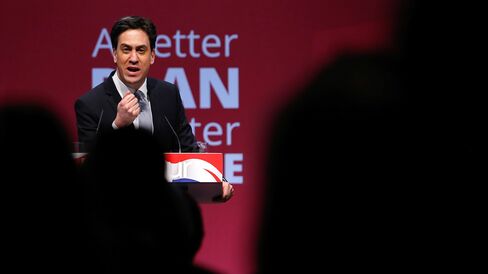 Germany's Social Democrats see a victory by U.K. Labour Party leader Ed Miliband in May 7 elections as the best hope for keeping Britain in the European Union.
With just days to go before Britain goes to the polls, senior SPD lawmakers are vocal in supporting the ouster of Prime Minister David Cameron, which would kill the specter of a referendum on the U.K.'s future in Europe. The threat to put membership to a vote has strained German relations with the U.K.
"The U.K. outside Europe is just unthinkable," SPD European Affairs spokesman Norbert Spinrath said on the telephone from his constituency near the Dutch border on April 29. "I'll be up watching those results come in, willing Labour to victory."
The SPD, which co-rules with Chancellor Angela Merkel's Christian Democrats and is a sister party to Labour, is clinging to signals from Miliband that a referendum wouldn't come to pass if Cameron lost the election.
Under Labour, a referendum is "unlikely," said Miliband on March 30, adding that he opposes transferring more power to Brussels. Cameron pledges to hold an in-out referendum by 2017.
SPD lawmakers say they're emboldened by U.K. poll scores. While Labour and the Conservatives remain locked in the polls, bookmakers say Miliband has as good a chance or better of becoming prime minister instead of Cameron because of his potential coalition options
Labour Return?
Analysts raised the possibility that Labour may return to power after a five-year absence to lead a minority government. The stand-off with the Conservatives is complicated by the prospects of smaller parties such the Scottish Nationalists.
"If Cameron returns there'll be a referendum, if it's Miliband there won't," said Nick Pearce, director of the Institute for Public Policy Research in London, in an April 30 interview.
A British departure from the EU will be costly, the Bertelsmann Foundation and the Ifo Institute said in a joint report published Apr. 27. The U.K., which joined the EU in 1973, may forgo 300 billion euros ($334 billion) in economic growth by 2030, the group said.
'Brexit'
Cameron's "notion that you can both exit the EU and keep a grip on the advantages of the trade bloc is nonsense," said Niels Annen, the SPD's foreign policy spokesman, in a April 28 interview. Annen said the SPD faction in parliament want Labour to win next week.
Germany's Social Democrats are invested in a Labour victory and the efforts by Miliband to make clear to the electorate that the U.K. is part of Europe, said Axel Schaefer, an SPD deputy parliamentary leader and lawmaker in the parliament's Foreign Affairs group.
Before it's here, it's on the Bloomberg Terminal.
LEARN MORE