London Finance Job Vacancies Rise Spurred by M&A, Recruiter Says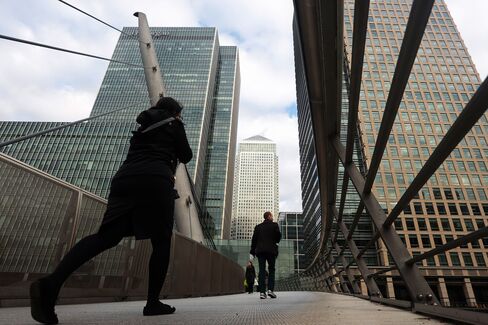 Job vacancies at London's financial-services companies jumped by more than a third last month as firms sought more dealmakers, according to a recruitment firm.
The number of job openings in the Canary Wharf and City financial districts rose to 4,070 in April from 3,030 a month earlier, Astbury Marsden said in a statement Tuesday. The increase is 54 percent higher than the year-earlier period.
"On the mergers and acquisitions side while the bulge bracket firms are picking up dozens of mandates, smaller firms are also getting in on the action," said Adam Jackson, managing director at Astbury Marsden. "That trend is even changing the geography of the City, with the new generation of investment banks mushrooming in Mayfair."
Robey Warshaw LLP is among firms, including Zaoui & Co., that have started in recent years as some merger advisers leave larger companies such as Morgan Stanley and UBS Group AG, winning mandates on large deals. London-based Robey Warshaw, a two-year-old investment bank, is advising BG Group Plc on its sale to Royal Dutch Shell Plc and will split as much as $90 million in fees with Goldman Sachs Group Inc., consulting firm Freeman & Co. estimates.
Banks may also hire on their trading desks after some European and U.S. securities firms reported higher profits in their fixed-income businesses in the first quarter, Astbury Marsden said.
Before it's here, it's on the Bloomberg Terminal.
LEARN MORE