Kerry in Kenya Urges Coordinated Response to Militant Raids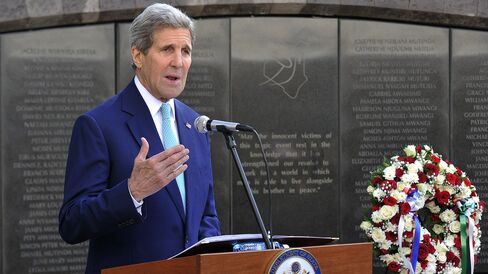 U.S. Secretary of State John Kerry met Kenyan officials to discuss a coordinated response to Islamist militants as the East African nation faces a wave of attacks by Somalia's al-Shabaab.
Kerry's first stop on his trip to the continent comes five weeks after an al-Shabaab raid on Garissa University College in northeastern Kenya that left at least 147 people dead. The country has the biggest economy in East Africa and serves as a regional hub for U.S. companies including Google Inc. and Coca-Cola Inc.
Countries battling militants have an obligation to "apprehend and prosecute the guilty, secure borders, strengthen governance, invest in the health and well-being of all people, and unite across every boundary of race, nation, ethnicity and creed to defeat terror and to enrich life," Kerry told reporters in the capital, Nairobi, on Monday.
He spoke after laying a wreath of red and white roses at the site of the former U.S. Embassy in the city, where a 1998 attack by al-Qaeda killed more than 200 people.
Al-Shabaab has claimed responsibility for a series of attacks in Kenya over the past four years. The al-Qaeda-linked group says it's retaliating over Kenya's deployment of troops four years ago in Somalia, where the militants have been waging an insurgency against the government since 2006.
Refugee Aid
"We know that the struggle in which we are all engaged now is not going to be over soon," Kerry said.
Kerry met with President Uhuru Kenyatta, opposition leaders and the country's chief justice during a trip that comes three months before President Barack Obama's scheduled visit to the country.
Kerry said the U.S. will give an additional $45 million to the UN High Commissioner for Refugees for the operations in Kenya, where Kenyatta has threatened to close the Dadaab refugee camp, one of the world's largest. The new aid brings total U.S. humanitarian assistance in Kenya to more than $289 million, Kerry said, including $96 million given to UNHCR since the beginning of the 2014 fiscal year.
The new funds will assist about 600,000 refugees in Kenya, including 419,000 Somalis living in Dadaab, Kerry said, and an additional 45,000 South Sudanese refugees who have arrived since conflict broke out in there in December 2013.
'Multifaceted Approach'
The Kenyan authorities' response to the attacks has raised concerns among human rights groups including New York-based Human Rights Watch and U.S. officials about a crackdown on civil society and the scapegoating of Somali refugees.
"I'm glad today that President Kenyatta reinforced his agreement with us that human rights and the rule of law have to be respected in the counter terrorism efforts," Kerry told reporters in a separate briefing after meeting Kenyatta.
The U.S declared al-Shabaab a terrorist organization in 2008 and has carried out drone strikes in Somalia, including raids last year that killed the group's leader, Ahmed Abdi Godane, and intelligence chief Abdishakur Tahliil.
Before it's here, it's on the Bloomberg Terminal.
LEARN MORE