This watch is a weird one. Some hard-core collectors might scoff at it because it came together over the course of decades, rather than was designed and constructed all at once. But I'm 100 percent on board with this strange little time capsule, as it gives us a glimpse into the history of the watch industry and all its foibles. It's also attractive.
The story of this watch starts with the movement. It's a caliber 185 split-second chronograph movement made by a company called Venus sometime in the 1950s. Venus was absorbed by sister movement maker Valjoux in the late '60s and production of its high-end chronographs largely ceased. However, in the last few years, brands such as Panerai and Parmigiani Fleurier have re-created the caliber 185 split-second and put it in new watches. The 185 is a beautiful workhorse movement even when finished modestly like the example here.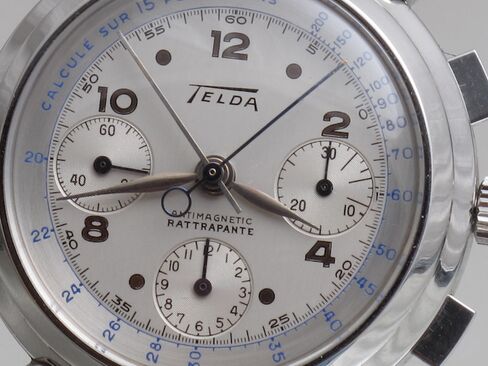 In the early '90s, long after production of the 185 stopped, someone stumbled on a cache of 30 new old-stock movements that had already been outfitted with hands and dials signed "Telda." It's thought that these also date from the 1950s, but it's impossible to confirm as it doesn't look like any watches with these dials/hands were ever made.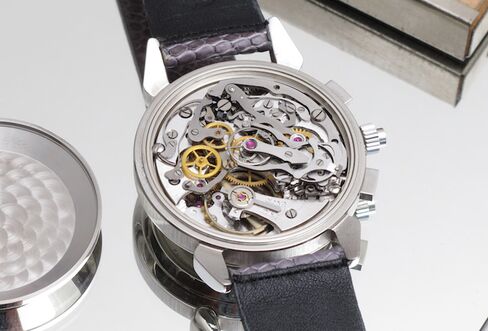 So what do you do with a pile of highly desirable movements that already have dials and hands? Get cases made, of course. A Geneva-based case maker was employed to come up with a suitable '50s-style case to suit this store of caliber 185s and produced a mix of 37mm rose gold and stainless steel cases with spider lugs, brushed casebands, and rectangular pushers. They look every bit the part and you'd be forgiven for thinking the watches came out of a mid-century factory looking just like this.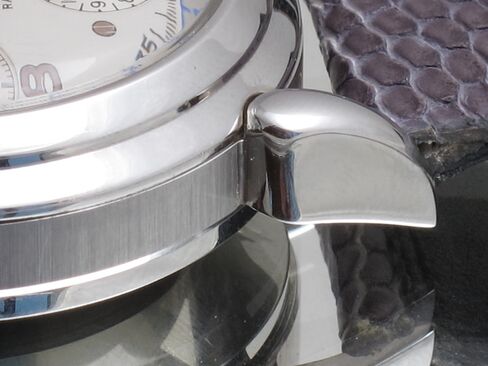 To the most dedicated vintage watch aficionados, this might sound like a Frankenwatch, the dreaded cobbling together of new watches from old components. These are usually sold at a premium as "super rare" or "totally unique" but often looked down upon by some collectors. I think this is something else entirely.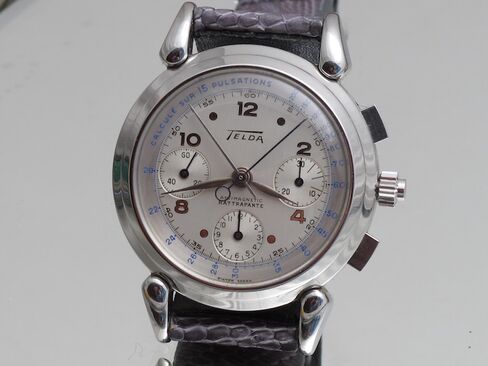 Is this Telda split-seconds a true historical vintage watch? No, that would be a misleading description since the case is only 20 years old or so and met the movement four decades after it was made. But it is a rare, good-looking watch that gives us a look into the strange supply chains and shuttered companies that make up the rocky history of the Swiss watch business. Give this one a second look at the very least.
This Telda split-second chronograph is available from Cosimo Watches for 15,000 euros (about $16,820).
Before it's here, it's on the Bloomberg Terminal.
LEARN MORE