FedEx Stock Nears Support Level as Estimates, U.S. Economy Slow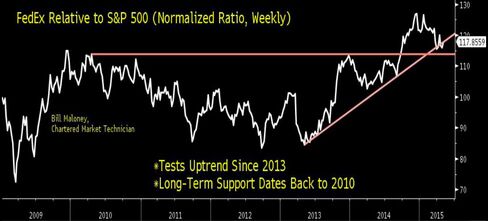 FedEx Corp.'s stock is nearing a technical support level as the boost to earnings from cost-cutting and acquisitions moderates, signaling its underperformance could continue.
Shares of the Memphis, Tennessee-based company have lagged behind the Standard & Poor's 500 Index by almost 8.4 percentage points since Jan. 20, when the stock traded to a relative peak near the highest since July 2006 -- see chart. The stock-price ratio has fallen since then, as FedEx closed at $171.73 on May 1, while the benchmark index was at 2,108.29.
The operator of the world's largest cargo airline is scheduled to release fiscal fourth-quarter results June 17; the implied one-day stock-price move is almost 3 percent, according to data compiled by Bloomberg.
If the stock breaks below the support level corresponding to its relative highs reached in 2010 and 2013, "this would be a bearish sign and may prompt additional selling," said Jim Stellakis, founder and director of research at Technical Alpha Inc. in Greenwich, Connecticut.
After a "great run" in the prior 20 months, FedEx shares have weakened since mid-January as earnings growth could be "a little more challenged" ahead, said Kevin Sterling, an analyst with BB&T Capital Markets in Richmond, Virginia. "We believe the increase in earnings from its ongoing profitability plan and recent acquisitions is largely priced into the stock."
- FedEx Express is targeting $1.6 billion in annual profit improvement by the end of fiscal 2016.
- Sterling said the company's fiscal 2016 earnings will benefit from the full integration of Genco Distribution System Inc., a third-party logistics provider it acquired earlier this year.
Even though FedEx's plan to acquire TNT Express NV -- announced in April -- would provide "significant growth potential in Europe," Sterling said he maintains a hold recommendation on the stock because it's "fairly valued in our opinion."
- Shares are trading just below 16 times the price-to-earnings ratio based on Sterling's estimate of $10.90 for fiscal 2016, which is close to its five-year average.
- If the acquisition is approved, the boost to profitability in fiscal 2016 and 2017 probably will be "muted," while fiscal 2018 earnings could increase by as much as $1.25, according to Sterling's calculations.
A weaker economic outlook also could hurt FedEx's profitability. Customers of transportation companies may reduce shipping budgets if the economy doesn't rebound as much as some economists forecast, according to Lee Klaskow, an analyst with Bloomberg Intelligence. A shift to cheaper, lower-margin modes of transportation like rail would affect FedEx and other express carriers, he said.
- U.S. gross domestic product rose at a 0.2 percent annualized rate in the three months ended March 31 after growing 2.2 percent the prior quarter, Commerce Department data show.
The world's largest economy is projected to grow at a 3.1 percent annualized rate in the April-June quarter, according to the median estimate of economists surveyed by Bloomberg. The relative underperformance of FedEx shares reflect "some skepticism" about this rate of expansion, Stellakis said.
The stock has fallen 2.3 percent since March 17, the day before FedEx reported its most recent financial results, which underscores this "bearish sentiment shift," he said.
"Slower economic growth makes it harder for FedEx stock to outperform, especially as earnings estimates already reflect strong gains," Sterling said.
Before it's here, it's on the Bloomberg Terminal.
LEARN MORE