Europe's Manufacturers Lift Prices in Sign Deflation Scare Over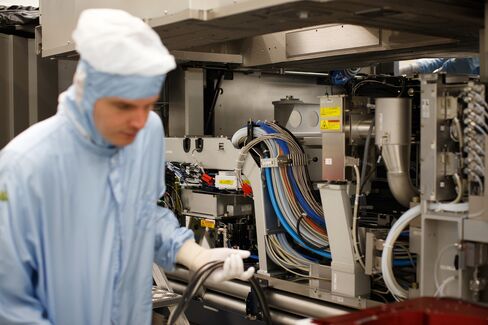 Euro-area manufacturers raised prices for the first time in eight months, adding to signs that the region's economy is overcoming deflation fears.
Average selling prices rose in April, reflecting increases in Germany, Italy and Ireland, London-based Markit Economics said on Monday. Input costs advanced for a second month, following six consecutive contractions. A Purchasing Managers Index for the industry slipped to 52 from 52.2 in March, compared with an April 23 estimate of 51.9. A print above 50 signals expansion.
The report comes after a four-month slump in consumer prices halted in April, supporting European Central Bank President Mario Draghi's case that his 1.1 trillion-euro ($1.2 trillion) quantitative-easing program is beginning to show success. Increased economic momentum from Germany to Spain is also supporting the labor market, with unemployment on a slow downward path.
"Price indices have turned higher, and manufacturers are taking on staff at the fastest rate since mid-2011," said Chris Williamson, chief economist at Markit. "Policy makers should therefore be quietly confident that the region remains on a steady recovery trend."
In the first quarter, the euro area probably recorded faster growth than the U.S. or the U.K. for the first time in four years. Economists in Bloomberg's Monthly Survey predict the region's economy expanded 0.4 percent in the January-March period, compared with 0.1 percent recorded in the U.S. and 0.3 percent in Britain.
Spain is leading Europe's recovery, and the Bundesbank has expressed confidence that the German economy, the region's largest, will continue to grow at a "quite robust" pace. Concerns remain, however, with unemployment in Italy back to near-record levels in March, sluggish factory output in France and Greece on the brink of default.
"Warning lights are flashing particularly brightly over France and Greece," said Markit's Williamson. As for euro-area manufacturing, "the dip in the rate of expansion will serve to check recent optimism that the ECB's quantitative easing program has bought a guaranteed ticket to recovery for the region."
Before it's here, it's on the Bloomberg Terminal.
LEARN MORE