Corinthian Bankruptcy Caps Biggest U.S. Education Meltdown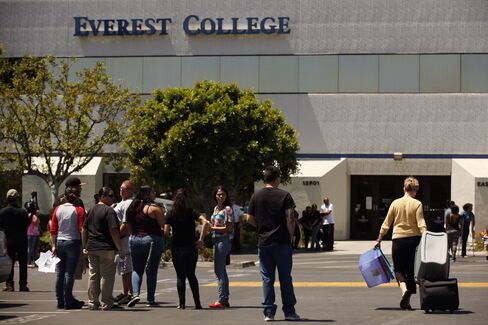 Corinthian Colleges Inc. filed for bankruptcy, a week after closing its remaining 28 for-profit career schools in the biggest collapse in U.S. higher education.
Corinthian's meltdown began last year after the U.S. Education Department reduced its access to federal student aid. The company agreed to sell half its 107 campuses to Education Credit Management Corp. in November amid allegations that it falsified grades, attendance and job-placement rates. Corinthian received $1.4 billion in federal student aid in 2013 alone.
The most recent closures ended instruction for about 16,000 students and spurred the loss of 2,700 jobs. Corinthian schools once counted more than 74,000 students and over 10,000 employees, according to court papers.
The company was ordered April 17 to stop enrollments in California, where most of its remaining schools were located. It was also fined $30 million by the U.S. Education Department for misrepresenting job-placement rates to attract students at its Heald business schools.
Attempts to sell its 150-year-old Heald College and to arrange for teach-out partners to allow Everest College and WyoTech students in California to continue their education were unsuccessful according to a statement last month.
'Seamless Transition'
"The current regulatory environment would not allow us to complete a transaction with several interested parties that would have allowed for a seamless transition for our students," Jack Massimino, chief executive officer of Corinthian, said in the statement.
The company, based in Santa Ana, California, listed assets of $19.2 million and debt of $143.1 million in Chapter 11 documents filed Monday in U.S. Bankruptcy Court in Wilmington, Delaware. Heald Education, Everest College Phoenix, Rhodes Colleges and Pegasus Education also sought court protection.
The Education Department remains committed to protecting students and ensuring that those who hurt by fraud receive debt relief, said Denise Horn, a spokeswoman.
"Corinthian's bankruptcy filing follows aggressive enforcement actions taken by the department to protect students," she said in an e-mail. "Bringing accountability and transparency to the entire for-profit college sector remains a top priority for us."
Corinthian was founded in February 1995, and through acquisitions became one of the largest for-profit post-secondary education companies in the U.S. and Canada.
Anthem Bankruptcy
It joins Anthem Education, the operator of 41 post-secondary schools, in bankruptcy. Anthem sought bankruptcy protection in August to sell 28 campuses to IEC Corp. and allow 8,150 students to continue their educations. Anthem served 10,000 students. Ninety percent of tuition came from federally sponsored loan programs.
Eligibility to participate in federal student aid programs is terminated immediately and irrevocably in the event of a bankruptcy filing. Institutions must immediately stop awarding federal funds to students, according to court papers.
Before filing, Corinthian agreed to sell more than 50 Everest and WyoTech schools to Zenith Education Group Inc. Campuses in California were excluded from the sale after the California Attorney General sought to "impose significant economic and operational demands" on the buyer, the company said in a court filing. The sale, which closed in February, allowed about 40,000 students to continue their studies and thousands of employees to retain their jobs.
The company is asking the court for permission to sell certain miscellaneous assets including furniture and equipment at 31 locations.
The case is In re Corinthian Colleges Inc., 15-10952, U.S. Bankruptcy Court, District of Delaware (Wilmington).
Before it's here, it's on the Bloomberg Terminal.
LEARN MORE