Clegg 'Overwhelmed' by Volunteer Love at U.K. Election Hustings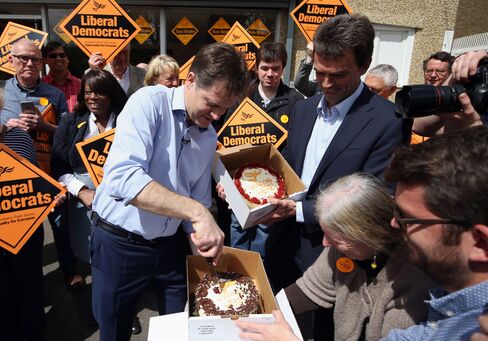 Nick Clegg hasn't had the easiest five years. Since going into coalition with David Cameron's Conservatives in 2010, he's been mocked and pilloried, and seen support for his Liberal Democrat Party collapse. So who could begrudge him half an hour of feeling loved?
The Deputy Prime Minister was speaking at the Citizens U.K. pre-election assembly. This is a group of voluntary organizations, churches and other faith groups that campaigns on behalf of the disadvantaged. On Monday, three days before the election, it invited the leaders of Britain's three main parties to come and make their cases.
Two of them accepted. David Cameron, with the eye for difficult encounters that has characterized his campaign, decided to attend a Conservative rally in Bath, 100 miles away. In his place, he sent Sajid Javid, the Culture Secretary.
Clegg walked on to be told how proud Citizens U.K. were of their relationship with him. He looked close to tears. "I'm so used to being told that I haven't delivered, so I'm slightly overwhelmed to be told that I have," he said.
The Liberal Democrats' electoral pitch, to moderate whichever of Labour or the Tories are in government and to generally not be unpleasant, went down well with the 2,000 people in the Methodist Central Hall in London.
Huge Cheer
"We can't afford to lurch this way or that," Clegg told them, before attacking the U.K. Independence Party's leader. "There's nothing decent about Nigel Farage blaming foreigners for every problem in this country."
That won a huge cheer. As UKIP is out polling the Liberal Democrats nationwide, it's safe to say the audience may not have been representative.
Labour's Ed Miliband, too, got a warm reception as he explained to them that what they were really campaigning for was a Labour government. "Your cause is my cause," he said. "Your mission is my mission. Your struggle is my struggle. your vision is my vision."
Javid, who went on before Clegg, had a rougher time of it. "I'm sorry David Cameron can't be here today," he began, before arguing that community groups were, in the experience of his father, an immigrant from Pakistan, a good thing.
Each politician's session ran to a strict and obscure timetable, in which they were given a bunch of flowers, then made a four-minute speech, then were confronted with an issue, and made another speech, and then answered questions. To keep them to schedule, a bell rang when they were running out of time, and again when they'd run out.
Muttered Compromises
If their answer satisfied the audience, they got cheers and applause. If not, their interlocutor, a minister of religion wearing a cardigan, or a Salvation Army officer, asked them again, and again, and again, until they muttered a compromise. And then the bell would ring.
Javid's presentation consisted of the lights being lowered while he heard from asylum-seekers who had been detained upon arrival and who now suffered from mental illness. Then he met the child of an asylum seeker. Then the audience chanted at him that they wanted time limits on how long asylum seekers could be held in detention. Then he had to tell them his party disagreed. "Thank you very much for that," he said.
London Cleaner
They asked him if the Conservative leader would come to their next assembly. Javid was unsurprisingly noncommittal. They asked him again, and the audience made threatening noises. "I'll help you in any way I can," Javid said. He was allowed to leave.
When it was Clegg's turn, he met a London cleaner whose job he'd helped to save. The cleaner's son thanked him. Clegg promised to try to do more to increase low pay.
Then they asked him if he'd meet them again. Given the closeness of the race in the party leader's own district, a more relevant question may be whether Citizens U.K. will promise to meet him every year, but Clegg was enthusiastic.
"Every time I meet you, you bring flowers," he said. "I'd like to meet you more than once a year."
Before it's here, it's on the Bloomberg Terminal.
LEARN MORE